Geist Launches Version 3.6 for Both Environet and Racknet
Geist Launches Version 3.6 for Both Environet and Racknet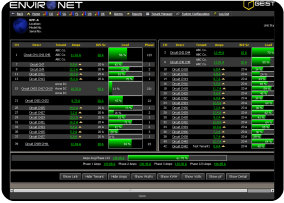 27 July 2012, Fort Collins, CO—Today, Geist launches the 3.6 release for their Environet DCiM systems and the Racknet product line. This upgrade includes a new feature called Tenant Billing Manager for Environet, which allows real-time calculation of power consumption associated with tenants for billing and SLA verification (read full release).
Additional features for version 3.6, include new branch circuit monitoring (BCM) views for Environet which allows users to group individual readings into 1, 2, or 3 phase circuits as well as view tenants associated with each breaker. In addition, the oBIX protocol is now available as a standard integration protocol for all Environet systems.
The latest release includes a number of upgrades for the Racknet product line that are primarily focused on improving user experience. Among the improvements, two new features are available to help save users time when configuring their systems. Users can now auto-associate input points of equipment to collections—no more searching for various points and individually associating them. Simply drag devices under a collection and it will associate all of the points automatically. In addition, Racknet now has the ability to add custom graphics to sites, collections and equipment by assigning relative graphics anywhere on the navigation tree. These "smart" graphics automatically adjust to the set of points they're assigned. Allowing users to generate smart graphics that can be reused on similar objects and saving them time from creating individual graphics.
Matt Lane, President of Geist DCiM, explains, "This upgrade provides some new foundational elements that we will continue to expand over the course of the year. The improvements we've made will allow us to grow our feature set dramatically and quickly. Version 3.6 focuses heavily on improving the user interface and increasing flexibility. It is essential that we continue our efforts to provide the best user experience as our products continue to exceed our customer's expectations."