Geist Launches Tenant Billing Manager for Environet DCiM Systems
Geist Launches Tenant Billing Manager for Environet DCiM Systems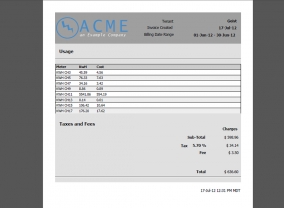 18 July 2012, Fort Collins, CO—Today, Geist unveiled a sophisticated add-on module, Tenant Billing Manager, for their Environet DCiM solution. The newly developed module gives data center managers the ability to calculate exact power consumption in real-time down to individual server level. Rates can then be applied to the power usage data and the application automatically generates invoices or usage reports for each data center client.
Detailed power usage information is essential for data center managers who need to allocate energy consumption to specific business lines or customers. The Environet Tenant Billing Manager collects information in real time, so rates can be adjusted during peak and non-peak hours. In addition, a calendar feature allows the application of differential rates for holidays and other user-defined time periods.
The Tenant Billing Manager integrates seamlessly with current Environet installations and can easily be added to an existing station and simply configured by the user.
Matt Lane, President of Geist DCiM, explains, "No other DCiM product on the market today streamlines billing processes as efficiently as Environet. It cuts out a costly administrative exercise and provides detailed information that can lead to improved resource management for a data center's customers."