Cosentry and Geist Complete Design and Implementation of Specialized Systems for the New Lenexa Data Center
Cosentry and Geist Complete Design and Implementation of Specialized Systems for the New Lenexa Data Center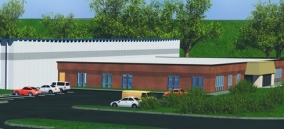 24 October 2012–Acknowledging the leverage of high density computing systems, Cosentry collaborates with Morrissey Engineering and Geist to design and implement high capacity data center energy management systems that enable use of the latest technologies from companies like EMC, Cisco, VMWare and VCE Systems. Because our new data center will manage some of the world's leading computing and storage capabilities, it demands a no compromise, best-in-class energy management system. The grand opening is scheduled for November 13, 2012 in Lenexa KS (RSVP here).
Cosentry—a leading provider of cloud services and Compliance, Regulated Environments (CRE) for data centers— announced it has completed the implementation of the latest in energy management systems for its new high density Lenexa Data Center. The project resulted from the collaboration with Morrissey Engineering, a nationally recognized data center design firm and Geist, a leader in technology solutions for over 60 years.
"Because our new data center will manage some of the world's leading computing and storage capabilities, it demands a no compromise, best-in-class energy management system. Private cloud fabric for high density, high performance enterprise clients require us to deliver an unwavering level of service," commented Mike Steffan, President and CEO of Cosentry. He continued, "The new VBlock Systems and CRE environment demand high availability and consistent performance around the clock."
The new Lenexa facility is tailored for high availability and high density platforms that operate at extraordinary levels. The collaboration with Geist allowed for a sophisticated solution that captures and effectively cools direct heated air flow and diminishes the possibility of hot spots. The green friendly, LEED inspired design allows maximum management control of temperature and air flow dynamics.
"We are thrilled to bring our AgileAir high-efficiency cooling solution to Cosentry's Lenexa facility," added John Durkin, Vice President of Sales and Marketing for Geist. "Cosentry has implemented world class technology from EMC, Cisco and VMware in their data center. Our unique cooling solution combined with our DCIM software will furnish the control and efficiency to maintain an optimum operating environment for this equipment."
Geist's AgileAir cooling solution focuses on two critical components, containing and expelling heat. The first is addressed by Geist's expertly manufactured chimneys and enclosures. The second step relies on sophisticated temperature and pressure sensors in the cabinet rows to control fan speeds and exhaust hot air through the chimneys at the most efficient rate. The combination of hot air containment and intelligently controlled fan speed creates a consistent climate-controlled environment in the data center and within the cabinet rows.
"This type of a center requires day one analytics and uninterrupted performance," stated Kevin Dohrmann, CTO and Vice President at Cosentry. He continued, "This build out has allowed Cosentry to upgrade their VBlock infrastructure and land some prestigious new clients who were seeking both high density and compliant data center environments."
The project is part of an ongoing engineering design and process improvement plan that is intended to take advantage of the serial changes in science and technology.
"The evolution of data center environmental design is not only fast paced and a matter of continual improvement, it is also a direct response to advances in computing design, commented George Morrissey, president and CEO of Morrissey Engineering. He added, "It is both a challenge and a privilege to work with an organization like Cosentry who draws the industry's leading providers into their facilities, you just know you are going to be challenged by the best."
About Cosentry
Cosentry serves as a one source provider of data center, cloud computing and managed technical services. For over 10 years Cosentry has been helping clients create and protect PCI certified and NIST compliant technology platforms to compete in today's ALWAYS ON business environment. Business leaders depend on Cosentry's world-class capabilities including collocation, virtual server and storage platforms, high-capacity internet and technical help desk services to keep their businesses running – no matter what. Cosentry has facilities in Kansas City, MO, and Sioux Falls, SD, Papillion, NE and Omaha, NE. For more information about Cosentry, please visit their main Data Center | Colocation website.