Outages indicate need for better power equipment
Outages indicate need for better power equipment
September 17, 2015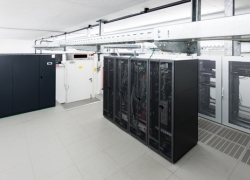 Power equipment is one of the main components of a data center, and it should be one of the foremost considerations when facility managers begin to make adjustments to the data center's systems. After all, without power, the servers can't run.
However, the thought process must go deeper than that. There are quite a few things that data center managers have to take into account when investing in power equipment, including how those systems will help facilities become more energy-efficient and reduce the number of errors experienced in the server room. All of this adds up to money saved that can be put toward other IT pursuits. What are some ways that effective power systems can impact data centers' bottom lines? Energy efficiency and reductions in outages are the top two reasons that IT managers should invest in power solutions that work for them.
Become more energy-efficient
Energy efficiency is crucial to data center management because of the costs that correlate directly with the power usage effectiveness of any facility. As energy costs continue to rise, the investment required to keep a data center up and running increases as well - so making sure all of the energy coming into the facility is being put to good use is key.
According to TechRepublic contributor Michael Kassner, being able to monitor a data center's PUE in real-time is an integral step in learning how to be more efficient in the long run and thus reduce operational expenditures relating to energy consumption. Facebook, for example, utilizes monitoring equipment to maintain an average of 1.1 PUE in its Prineville, Oregon, data center. This means that the energy coming into the building is being utilized in an effective manner without much overflow.
Reduce the number of outages
Another factor that remains perhaps the most important of all when choosing power equipment is making sure the data center doesn't experience an outage. If servers go down for any amount of time, it can impact service for customers, which can cost companies money in the long run. A 2014 study conducted by Avaya found that 80 percent of businesses lost revenue when networks went down, and the average cost of an outage was around $140,000 per incident.
However, those numbers vary depending on industry. Within the financial sector, for example, according to the report, the average cost per incident was $540,358. This kind of expense is hard to come back from, especially when company reputation is on the line.
When things go wrong with power equipment, it can result in disaster for colocation providers. For instance, on Monday, Sept. 14, Web hosting provider Hostway experienced a localized power outage at its Chicago data center, according to The WHIR. This outage affected DNS service for some of the company's customers, resulting in email servers being down.
Hostway indicated in a statement that the loss of power was the result of an issue with one of its three uninterruptible power supplies, which triggered safety breakers after experiencing a critical fault. The damaged UPS couldn't be bypassed without electrical damage to the affected servers, so electricians were called in to figure out how to reroute the power and restore capabilities. The company moved quickly to get systems back online, but only about half the affected customers had service restored an hour and a half after Hostway first reported the situation.
Hostway was transparent about this unfortunate event and quickly alerted customers that there was an outage. However, what effect will it have on those customers, especially the ones that experienced a DNS service outage for longer than the one-and-a-half hours it took to get some of the clients up and running? During incidents like this, managers need to be able to view and quickly act on important facility information that effective power equipment can provide.
The answer: Invest in PDUs that include real-time monitoring
In order to combat outages and increase efficiency within the data center environment, it's important to make investments that count in both the here-and-now and long term. Solutions from Geist can help managers cut back on operational expenditures by decreasing the PUE quotient and reducing the chance for facilities to go down unexpectedly. Power distribution units with built-in monitoring can alert IT staff when power surges occur, providing key insight so that managers can take steps to prevent the worst from happening.