Tiny PDUs begin their own selfie campaign
Tiny PDUs begin their own selfie campaign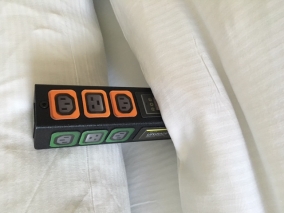 September 20, 2016. Lincoln, NE. – Geist, best known for quick lead-time delivery of manufactured rack PDUs, has launched an entertaining element through its social media channels. #superfastPDUs Photo Contest gives data center professionals the ability to create their own "tiny PDU" and enter their snap on Geist's Twitter, Facebook or Instagram.
As lead times in the industry continue to lengthen, Geist's ability to get product out the door finds their customers highly satisfied with turn-around time and 99.97% on-time delivery. Brad Wilson, Geist EVP said: "We consistently deliver our build-to-order PDUs to our customers when they want them. 90 per cent of our global product is delivered within three weeks, and we often fulfill deliveries in as few as three days, when required – making us consistently superfast."
You can view the photo submissions and vote on your favorite through Sunday, October 9, 2016 by visiting http://bit.ly/superfastPDUs. If you interested in participating, you can request the Geist collector's item Speed of Delivery box at http://go.geistglobal.com/superfast. Quantities are limited so receipt of tiny PDU is not guaranteed.