NEW! PDUs with Low Profile Breakers
NEW! PDUs with Low Profile Breakers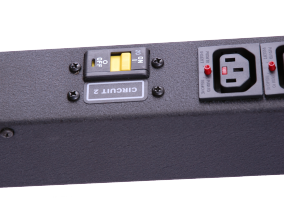 3 October 2012, Lincoln, NE—Today, Geist begins offering low profile breakers on select power distribution units (PDUs). The new smaller breakers reduce the PDU depth by over 40% compared to traditional magnetic breakers. The slimmer design protects against electrical overloads and allows the PDUs to be easily installed in data center cabinets with limited space.
"We're the only manufacturer to offer a low-profile, flat front magnetic breaker with integrated trip guard. The smaller design may seem like a minor change, but for those who have encountered cabinet space constraints, the reduction in size makes a considerable difference in tight locations," said Brad Wilson, Executive Vice President, Geist.
Geist will offer low profile breakers as a standard feature on select basic and intelligent PDU configurations. Customers can immediately choose to incorporate the new breaker design on custom PDU orders. Visit geistglobal.com for details about PDUs with the new breaker design.