Geist's Bryce Kleen writes article for Inside Networks
Geist's Bryce Kleen writes article for Inside Networks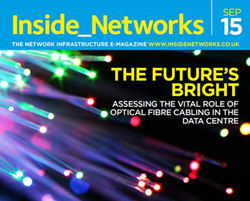 Bryce Kleen of Geist looks at ways to reduce cooling costs within data centres, and how state-of-the-art containment systems can ensure the reliability of equipment and minimise downtime.
Major organisations such as Google and Microsoft lead the way in measuring and improving energy use – not only because they consume such vast amounts and it also makes economic business sense, but also because our world has finite resources. The need to conserve and reuse energy is paramount until such a time as we develop the nirvana of 100 percent renewable energy sources.
It's universally accepted that data centres consume almost as much energy for noncomputing resources – such as cooling and power conversion – as they do in actually powering their servers. That is why power usage effectiveness (PUE) has become such a prevalent industry metric – the closer it is to the magical 1.0 then the better the facility is doing in managing its use of noncomputing energy.
To read more of Bryce's article please follow the link to Inside_Networks.