Geist Unveils Rapid Deployment Data Center Environmental Monitoring System
Geist Unveils Rapid Deployment Data Center Environmental Monitoring System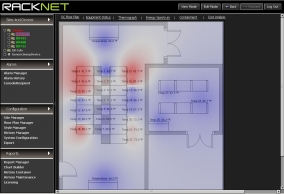 June 28, 2013— Geist, a leading provider of data center infrastructure management solutions, has introduced a turnkey system that allows data center managers to easily deploy a sophisticated environmental monitoring network within hours. Racknet–E (Racknet-Environmental), the latest addition to Geist's Racknet product line, combines high-end data center management software and fully integrated environmental sensors to alert managers when heat or humidity levels threaten sensitive data center equipment.
Racknet-E bundles can be fitted with wireless or wired sensors; each preprogrammed sensor reports temperature and/or humidity readings through the Racknet-E web accessible graphical user interface. The product's easy-to-understand live views, user-defined calculations and historic trend reports provide the critical data necessary to eliminate potential problems related to the data center climate.
"A quick response to environmental changes is crucial to protect servers and maintain uptime in the data center," said Matt Lane, President of Geist DCiM. "Racknet-E gives managers access to a user-installed system with the real-time monitoring and alarms they need to head-off climate threats before they become catastrophic."
Racknet-E also has a full upgrade path to monitor other SNMP compatible devices located in the data center. After upgrading, users can elect to expand their monitoring capabilities to include power strips and other SNMP devices.
# # #
Notes to Editors:
Racknet Product Family - Racknet-E is the newest member of the Geist Racknet product line of preconfigured management solutions, which also includes Racknet-Aggregator (Racknet-A), Racknet-Server (Racknet-S), and Racknet-Aggregator Server (Racknet-AS). The details of the full Racknet line can be found on this Geist webpage: http://www.geistglobal.com/products/manage/racknet/product-family.
About Geist - Geist designs and manufactures intelligent hardware and software for the four cornerstones of data center management: Power. Cool. Monitor. Manage. Independently, each Geist product line offers industry-leading capabilities and technology. Together, these products combine to create a comprehensive system for maintaining a secure and efficient data center. With a host of scalable systems for single cabinets, entire enterprises and everything in between, each customer benefits from data center infrastructure management (DCiM) solutions custom-fit for their specific needs. From its worldwide headquarters in Lincoln, Nebraska, Geist and its products have revolved around the customer since the company was founded in 1948. For more information, visit www.geistglobal.com.