Geist presents "Thinking about tomorrow's data centre Infrastructure, today" at The Shard
Geist presents "Thinking about tomorrow's data centre Infrastructure, today" at The Shard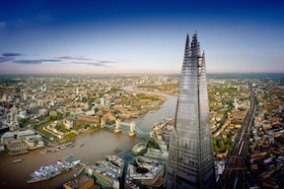 London, UK July 1, 2015 – Geist hosted a showcase event on the 35th floor of The Shard in London on June 26th. The theme of the event was "Thinking about tomorrow's data centre infrastructure, today". Jonas Caino, Geist Enterprise Development Manager, gave an informative presentation, walking the audience through the exponential changes the industry has seen in data in terms of volume and transmission speeds, from the evolution of the first computer through to the present day. He also issued some challenges regarding the paradigm shift required when planning data centres that will cope with future data requirements.
Scott Harrison, EMEA Sales and Marketing Manager said "This is the second event Geist has held at The Shard and it was very well attended. The presentation was wide-reaching and prompted a lot of discussion with the audience. The key points that emerged from the discussions were the careful balance required to manage data centres efficiently"
Hands-on demonstrations and workshops were available at the end of the event covering the four key cornerstones of Geist's product portfolio: Power, Cool, Monitor and DCIM.
###
About Geist
Geist designs and manufactures intelligent hardware and software for the four cornerstones of data centre management: Power, Cool, Monitor, DCIM. Independently, each Geist product line offers industry-leading capabilities and technology. Together, these products combine to create a comprehensive system for maintaining a secure and efficient data centre. With a host of scalable systems for single cabinets, entire enterprises and everything in between, each customer benefits from data centre infrastructure management (DCIM) solutions custom-fit for their specific needs. Founded in 1948 and headquartered in Lincoln, Nebraska with offices in Asia-Pacific and Europe, Geist offers truly global solutions that revolve around customer requirements. For more information about Geist, please visit our website at geistglobal.com.