Geist Goes Large at the UK's biggest Data Centre Exhibition
Geist Goes Large at the UK's biggest Data Centre Exhibition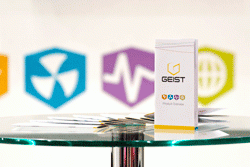 14 MARCH 2013 LINCOLN, NE – All eyes of the biggest movers and shakers in the data centre management world were on London between February 27– 28th, when the Data Centre World Conference and Expo took over the prestigious ExCel centre in London's Docklands.
And Geist, a provider of innovative power, cooling, management and monitoring solutions for data centers of all sizes and in all business applications, took its place alongside the industry's leading players.
At stand D50 the Geist exhibitions team was led by VP of International Operations, Gordon Hutchison . "We showcased a number of practical examples of our customer-focused approach, as well as our scaleable systems which are designed to help businesses of all sizes manage their data securely," said Gordon, "We believe we have a great story to tell potential customers, and as the security and integrity of both individual and corporate data is seen as paramount in the modern world, we were, as always, happy to speak to anyone at Data Centre World who wanted to learn more about how our products and services can help them achieve these aims," he added.
At Geist's stand, at the Data Centre World Conference and Expo, everyone who dropped by enjoyed the opportunity to learn more about DCiM, Power, Geist cooling components, and compact equipment for data centre temperature and environmental monitoring performance. There was also great engagement with conference goers who could enter into a fun and free competition at Geist's stand to win a fabulous iPad Mini. In total, Geist's involvement in this year's Data Centre World Conference and Expo was a definite success, with both the Geist exhibition team having a great time explaining the company's products and services and there was a positive response from the exhibit visitors.
To find out more about how the conference went and planned future conferences visit the official DCW website.