Geist Expands Visible Light Communication Technology to Android
Geist Expands Visible Light Communication Technology to Android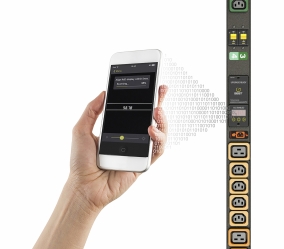 Emitted light combines with optical character recognition to capture power metrics in data centers via smartphones
Lincoln, NE [Feb.22, 2018] – Geist, a division of Vertiv and provider of intelligent power and management solutions for data centers, today announced that its Visible Light Communication (VLC) technology for the Geist Upgradeable line of power distribution units (PDU) is now available on both Android and iOS platforms.
This unique technology uses directed light and optical character recognition to capture power data by simply scanning the rack PDU with a smartphone. This technology does not require any network-based communications, making it an ideal replacement for manual data tracking methods in data centers in which rack PDUs are not networked. Geist VLC is available via the free Geist Mobile application for Geist Upgradeable PDU users.
"Data centers with non-networked rack PDUs often rely on manual sneaker reports to capture and report on critical power data.This is a time-consuming and error-prone process," said Gordon Hutchison, Geist vice president of international operations. "Geist VLC turns this data capture into a 2-second point and view task, securely and accurately capturing up-to-the-moment information for instant viewing, archiving and sharing. At Geist, we focus on identifying operational processes that can be simplified or automated with straightforward, highly reliable solutions. Geist VLC is a perfect example."
Geist's patent-pending VLC technology projects a stream of characters in rapid succession on the local display that is interpreted by the mobile device camera and presented in an easily readable format. The technology captures critical power data, including volts, amps, watts, kWh, phase and circuits. The aggregated power readings can be viewed, tracked, archived and shared with other departments who may not have access to the rack. This allows multiple teams to view power metrics without requiring network access. Different teams can capture data from specific units for use in reports.
Vertiv acquired Geist Feb.1, 2018. For more information, call +1.800.432.3219 or visit geistglobal.com.