Geist and Optimum Path Announce DCIM Technology Partnership
Geist and Optimum Path Announce DCIM Technology Partnership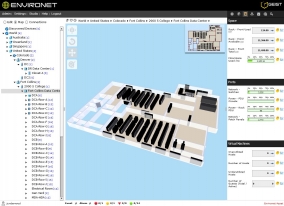 LINCOLN, NE., May 28, 2015 – Geist and Optimum Path Systems, Inc. announce a partnership to collaborate on technology solutions to improve the management of data centers. The goal of the partnership is to leverage each company's respective technologies to provide comprehensive solutions for the DCIM marketplace.
Combining the strengths of Geist's real-time monitoring and management systems with Optimum Path's expertise in asset management will provide solutions that match real-world needs with best of breed, integrated technologies. Matt Lane, President of Geist's DCIM division, states, "We are impressed with Optimum Path's extensive knowledge of DCIM. We are thrilled to partner with them to provide more holistic solutions to our customers."
For Optimum Path, Chief Operating Officer Steven Webel says, "The relationship with Geist has been excellent from day one. Together, we have a deep understanding of DCIM technologies and a shared motivation to solve customer's needs in this space. We are excited about the current and future plans of our relationship."
# # #
About Geist
Geist designs and manufactures intelligent hardware and software for the four cornerstones of datacenter management: Power. Cool. Monitor. DCIM. Independently, each Geist product line offers industry-leading capabilities and technology. Together, these products combine to create a comprehensive system for maintaining a secure and efficient datacenter. With a host of scalable systems for single cabinets, entire enterprises and everything in between, each customer benefits from datacenter infrastructure management (DCIM) solutions custom-fit for their specific needs. Founded in 1948 and headquartered in Lincoln, Nebraska with offices in Asia Pacific and Europe, Geist offers truly global solutions that revolve around customer requirements. For more information about Geist please visit our website at geistglobal.com.
About Optimum Path Systems, Inc.
Optimum Path Systems, Inc. is a global leader in the development of software for advanced visualization and planning of IT physical and logical infrastructure for data centers and other facilities. Our software solutions have been in production since 2007, creating financial benefits for owners and operators of many of the largest data centers in the world. For more information, please visit our website at www.optimumpathinc.com.