Geist Adds Wireless Capability to its "Watchdog" Line of Environmental Monitoring Products for Data Center and Technical/IT Rooms
Geist Adds Wireless Capability to its "Watchdog" Line of Environmental Monitoring Products for Data Center and Technical/IT Rooms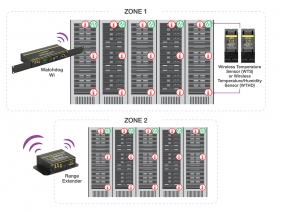 Lincoln, NE, Nov. 1, 2017 – Geist, provider of intelligent power and environmental management solutions, today introduced the Watchdog Wi, an innovative standalone solution for wirelessly monitoring environmental conditions in mission-critical facilities. The system provides continuous visibility throughout a facility's thermal state with a robust and flexible alternative to hardwired sensors and systems.
The Geist Watchdog Wi solution includes an enhanced gateway manager, new sensors and a flexible range extender to monitor temperature and humidity in data centers and technical/IT rooms. Wireless connectivity makes it lightning fast to add sensors whenever and wherever needed to keep pace with dynamic environments and maintain optimal equipment performance parameters within energy efficiency goals. The system displays critical data aggregated from the sensors via web interface, accessible from any browser or mobile device. An auto-discover capability detects system modifications within minutes, reporting changes, and any breach in user-specified thresholds to facility managers via text, SNMP or other alerting options. While the Wi is a completely standalone system, it can easily share data with DCIM or other third-party systems via open protocols for comprehensive facility visibility.
"The Wi is another great example of Geist's focus on ultra-reliable solutions that reduce the complexity and cost of data center operations," said Geist President Brad Wilson. "Adding wireless capability to our environmental monitoring solutions improves the ease and speed in which managers can respond to facility changes. But we didn't stop there. We considered each of the system's touch points and added value end-to-end, making the Watchdog Wi a truly best-in-class solution."
The Watchdog Wi provides:
Reliable, Reportable Environmental Data
Comprehensive, dependable wireless monitoring of data center and critical facilities collecting and aggregating the environmental data needed to report energy efficiency goals, maintain optimal performance and ensure equipment is operating as expected.
Extended Transmission Range and Sensor Capacity
Optional range extender expands transmission in 1,000-foot increments, with support for up to 400 sensors (all types and volt ranges).
Industry-leading Battery Life
New small footprint temperature/humidity sensors last up to five years, significantly reducing sensor swap out-related maintenance and related information interrupts.
The Watchdog Wi is available immediately through most distributors and IT Value-Added Resellers. For more information, call 1.800.432.3219 or click here.