CRSC and Primus Complete Tier III Design and Construction Certified Data Centre
CRSC and Primus Complete Tier III Design and Construction Certified Data Centre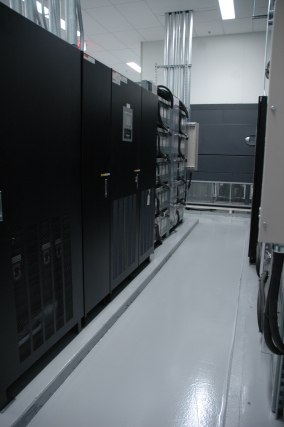 October 2012—Computer Room Services Corporation (CRSC) announced the completion of Primus Business Services' Toronto Data Centre 3 (DC3), which was designed and constructed in just eleven months. CRSC partnered with Primus Business Services, a division of Primus Telecommunications Canada Inc., to meet their aggressive completion deadline and to help them achieve Uptime Institute's Tier III Design and Construction Facility Certification – the latter of which was awarded to Primus in July and is the first Tier III Multi-Tenant Facility Certification to be awarded in Canada. Primus Canada is a wholly owned subsidiary of PTGi (Primus Telecommunications Group, Inc.) NYSE:PTGI.

"We have always designed and built data centres to achieve the highest reliability and efficiency standards established by industry best practices, such as Uptime Institute," said Greg Eaton, Principal of CRSC. "The data centre was designed to meet the requirements established by Uptime Institute for redundancy and concurrent maintainability, which means Toronto DC3 will never be shut down for equipment maintenance."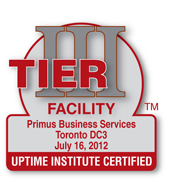 To receive Tier III Facility Design and Construction Certification, all equipment required significant testing for uninterrupted operation during maintenance activities. This included the generators, uninterruptible power supply systems, static transfer switches, and computer room air conditioners. The testing focuses on emergency power transfers at full load, and multiple scenarios which may impact the availability of the data centre. CRSC spearheaded the entire testing procedure of Toronto DC3 which required strict planning and project management.

"Primus has had a long and successful partnership with Computer Room Services Corporation," said Ron Ethier, Vice President, Data Centres and Managed Services, Primus Business Services. "We went beyond the normal Tier III testing – against an aggressive timeline and without failure – to demonstrate its capacity and ensure we were offering our clients best-in-class data centre services in Canada."

Chris Brown, Uptime Institute Senior Consultant and Certification Lead, was pleased with the level of quality achieved in such a short time. "A successful Tier III Facility Design and Construction Certification is the result of careful orchestration of multiple engineering disciplines and an ongoing commitment throughout the implementation of the design," he said. "The Toronto DC3 environment was indicative of good pre-planning by the design and installation team, and good workmanship by the construction crews. Once the Uptime Institute team arrived on-site, it was clear that the team had anticipated the activities well in advance and thus were able to readily 'prove' the concurrent maintainability of the data centre. It is notable that all demonstrations were successfully completed the first time and nothing was required to be repeated."

For information regarding the products and services offered by CRSC, please log on to www.crsc.ca or call 1-888-670.2772.

About CRSC
CRSC has specialized in IT infrastructure since 1983, and is considered a leader in professional services, construction, and maintenance of all types of critical physical infrastructures, including data centres. CRSC provides design and engineering services, maintenance and equipment for all components of the IT infrastructure. CRSC supplies and installs any and all equipment including HVAC systems, UPS systems, racks, generators, environmental monitoring systems, fire detection and suppression systems, security, raised flooring, and structured cabling systems. There are more than 300 CRSC designed and constructed facilities across Canada; spanning all major sectors including government, institutional, industrial and commercial.