What are you actually getting with DCIM?
What are you actually getting with DCIM?
March 5, 2018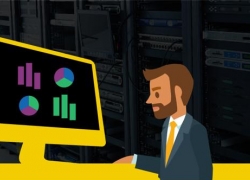 For years, data center infrastructure management (DCIM) has been the subject of contention among industry analysts. Some say DCIM is well past its hype cycle, and that it's truly come into its own. Others contend that its maturity is fundamentally stunted by a lack of a clear, industry-wide definition.
And then there's those who say it's failing altogether, which is a tenuous claim. By the numbers, the DCIM market is poised for significant growth (15 percent CAGR) through 2020. Meanwhile, the concept of the "smart" data center is as alive as ever (we're talking real-time, on one screen, powered by sensors, data integration and analytics – you know, basically all the things that good DCIM already does).
So, we've decided to set the record straight, first by saying that in terms of its maturity, DCIM is exactly where it needs to be. "Yes" it is in fact here to stay, and "no" it most definitely is not failing. More importantly, though, we'll explain what exactly DCIM provides for businesses, and why there's such a valid business case for those benefits.
Real-time management through a central console
"Configure alerts to trigger once certain thresholds are exceeded."
The main purpose of DCIM is to monitor critical equipment through one point of truth. Data is collected via sensors positioned throughout the facility. They gather power-utilization and environmental-status data pertaining to rack servers, switches, power distribution infrastructure, cooling-room air-conditioners and facility airflow.
Obviously, this will require the ability to actually collect this information – for instance, by deploying intelligent power distribution units (PDUs) and installing strategically positioned environmental sensors (temperature, humidity, dew point, etc.). It also means that you'll need to facilitate system integrations, but that isn't necessarily unique to DCIM. Not to mention, the best-in-class solutions are supported by open APIs that streamline data ingestion.
As a result of these efforts, DCIM can visualize real-time operational data in pre-built and customizable digital displays. From here, alerts can be configured to trigger once certain thresholds are exceeded. In a matter of speaking, you're left with a sort of "data center operations control panel". It won't magically improve your operations, but it will supply the real-time insights you need to make smarter up-to-the-second decisions.
Using where you've been to forecast where you're going
Real-time data center management is essential, but the data you collect has value beyond the present.
Over time, real-time data becomes historical and can be used to uncover trends in terms of expected capacity demands. For example, you can anticipate the capacity of your resources, including space and power, as they are currently configured to support your existing footprint. And as you edge closer to those limits, you can begin to forecast future capacities, making it easier to scale gradually rather than face sudden cost pressures or miss out on growth opportunities.
Similarly, in the short term, you can start identifying capacity fluctuations, and understand the demands certain peak utilization hours put on your power and cooling infrastructure. This will let you be flexible on a day-to-day basis, but also scalable over a longer period of time.
Again, making these fixes with DCIM isn't as simple as waving a wand and saying "Alakazam." To think of it in terms of a medical practice, DCIM doesn't necessarily prescribe the fix. Rather, it gives you everything you need to make an accurate diagnosis of where your facility is headed, and from there, determine what it needs to be cost-efficient and high-performing.
... At least for now, that is.
Identify what's working, weed out what's not
"Find the right balance between durability and efficiency."
There's obviously more than one way to measure the operational excellence of your facility. The go-to metric is Power Usage Effectiveness (PUE), which is the energy being used to power IT equipment relative to the amount of power entering the facility. The goal is to reduce energy spend that goes toward cooling, lighting, etc., so that servers and switches account for the bulk of power utilization.
Simultaneously, though, other metrics such as Green Grid's "performance indicator" (PI) strive to measure facility reliability and performance alongside PUE's efficiency rating. True data center optimization, after all, eludes you if you're very efficient but your infrastructure isn't reliable, or vice versa. Rather, it's about striking a balance between these values, which have historically been misconstrued as competing priorities.
Then there's the old "facilities versus IT" debate. PUE won't necessarily show you non-efficient IT equipment, because it wasn't designed for that. However, outlet-level PDU monitoring that is visually represented on a screen with DCIM's help will do just that. With that visibility in place, efficiency can begin to evolve from a facility issue into an IT issue as well.
These are the types of conflicts and seemingly competing prerogatives that DCIM can help to address. It provides a platform for operational modeling of the data center, but also operational discovery.
Ask the right questions, use DCIM to comb through the data, and you shall receive answers.