Power management's future role in clean energy
Power management's future role in clean energy
December 15, 2016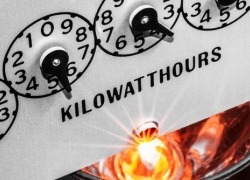 In early December, Google announced that it would power its data centers entirely with clean energy by 2017. The achievement would be the first at such a scale, but it most likely will not be the last. According to Bloomberg, U.S. tech companies are the biggest global buyers of clean energy, with Amazon and Microsoft not trailing too far behind the leader. What's more, it's not unlikely that smaller vendors and tech companies will follow suit in the future once the biggest names in IT have paved a road forward.
That said, there are inherent challenges with clean energy that first need to be overcome, namely the cost.
"[M]ost renewable energy sources come with a premium price tag and have problems reaching the scale required to successfully support the power requirements of an entire data center," Data Center Knowledge wrote.
Granted, the high cost of clean energy will most likely drop as more of it becomes available. Nevertheless, in the years to come, power management within data centers will play an extremely important role for those seeking to adopt renewable energy.
Every watt counts
In 2014, U.S. data centers consumed 70 billion kilowatt-hours of electricity. This amount that has surely increased since then, and will only continue to increase as more information is digitized and more functions are automated. As this happens, data centers will need to expand, or we'll need to build more of them. Both of these options require more energy. And if that energy is renewable, it will come at a premium – at least until there's more availability and demand for it.
Thus, data center managers will run into the same situation with renewable energy that they're facing with fossil fuels, which is the high operational expenses tied to powering these facilities. However, that doesn't mean that energy (clean or otherwise) should go to waste as a result of less-then-optimal power management.
An increasing number of organizations – and for that matter, the U.S. government in the form of DCOI – are turning to power management tools as a way to enhance data center power efficiency. At the end of the day, every watt counts, especially when you're paying more for that watt than you normally would.
The benefits of remote power monitoring
Ensuring that power consumption is no higher than it needs to be requires optimization of your entire data center infrastructure, from how you cool your equipment to the type of light bulbs you use. To an extent, data center infrastructure management (DCIM) and efficient airflow management can deliver cost savings. However, realizing these cost savings, and actually verifying them, is impossible without streamline power management.
"Clean energy is not immune to misuse and waste from poor power management."
This means using power distribution units that enable remote power monitoring, so that operators can know how much energy is being consumed at any minute of any day, and what equipment is consuming that energy.
Renewable energy is certainly a responsible decision, and it's one that in the long run, will likely be more cost-efficient and more stable than carbon-based energy sources. Nevertheless, it's not immune to misuse and waste resulting from poor power management. For that, we'll need PDUs that make feed identification easy, and that can be retrofitted with remote power monitoring intelligence.
Contact Geist to learn more.