How to save energy in your data center during summer
How to save energy in your data center during summer
June 10, 2016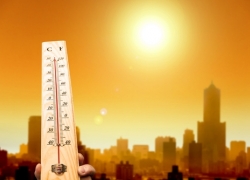 The dog days of summer are prowling around the bend, and experts are predicting a scorcher this year. According to NASA and the National Oceanic and Atmospheric Administration, 2015 was the hottest summer on record, and 2016 is expected to be even warmer.
As cloud data center operators are all too aware, when the temperature goes up, so too does the energy bill. This is mainly because the increase in external temperatures can easily raise temperatures inside a facility, forcing computer room air conditioners (CRAC) to increase their runtime and energy consumption.
The good news is that there are a few easy ways to improve cooling efficiency in the face of summer swelters, and save energy in your data center.
Streamline your airflow efforts
"Use a solution that knows how and when to do it for you."
Rather than simply cranking up the A/C and calling it a day, TechTarget contributor Vali Sorell recommends improving your airflow management. When cool air is released from perforated tiles, it should be passing directly through the front of cabinets, thereby cooling off equipment. The problem is, not all of this cool air always makes it to servers. Some of it is allowed to stagnate in the room, instead of being drawn into the actual equipment that needs cooling.
The solution to this problem is rather simple. Smart cabinet-based cooling components like Geist ActiveAir use pressure sensors to control fan speeds. This ultimately determines how much air is being drawn into the cabinet at a given time. So rather than dialing up the A/C and using more energy to keep equipment at the right temperature at all times, you might just need a solution that knows how and when to do it for you.
Keep heat contained
As cool air passes through equipment, heat transfers into the air, which must subsequently be directed to the cooling system to help prevent re-circulation. In the hot summer months, it's bad enough that there is so much outdoor heat and humidity that could potentially make its way into the data center. The last thing you need is hot air that's passed through equipment cycling back into the room.
Instead of relying on traditional hot-aisle containment methods, a better solution here is to use containment chimneys. These enclosed units can be cabinet-based or rack-based, and they can be added or removed as needed, which makes them ideal for cloud data centers that demand scalability.
This year is poised to be one for the record books in terms of heat. But that doesn't mean it has to be a burden on your data center. Rely on efficient airflow and containment to keep cooling costs in your cloud data center down and efficiency up.