Government data centers in need of better monitoring tools
Government data centers in need of better monitoring tools
April 29, 2016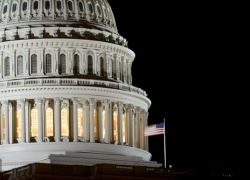 In the public sector, maintaining a functioning data center is perhaps more important than it otherwise would be for many private businesses. The amount of data flowing through government systems on a daily basis, as well as critical workloads, is staggering and has an impact on every level of society.
For instance, when a government system gets hacked, it can become a serious situation for many, including both citizens and government employees. In a similar way, unexpected network and data center downtime can have a negative impact on federal organizations. A 2014 MeriTalk report sponsored by Symantec found that during a one-month period, 70 percent of federal agencies experienced unplanned downtime of 30 or more minutes.
"For citizen-facing websites and services, network functionality is critical."
Far-reaching impacts
Those surveyed for the MeriTalk study said that 45 percent of the most recent outages were caused by network or server downtime – in other words, a problem in the data center. These kinds of outages aren't just affecting government workers. For citizen-facing websites and services, network functionality is critical. When the lights go out on the network, so to speak, people may be affected.
Take, for example, the Healthcare.gov website. As of January 2015, 9.5 million people had signed up for health care coverage using the federal program. Computerworld contributor Patrick Thibodeau expressed concern, however, that data center outages were what caused the relative failure of the Healthcare.gov website when it was launched in October 2013. The website's now-infamous lack of functionality caused consternation to many Americans attempting to sign up for health insurance through the then-new federal program.
Data center consolidation
In recent years, the U.S. government has made a concerted effort to consolidate federal data centers across the country in order to reduce environmental impact and increase efficiency in all computing efforts. According to Federal News Radio contributor Jason Miller, there were more than 11,700 federal data centers as of November 2015. This is an increase from more than 9,000 in 2014. These numbers continue to grow year after year. In fact, there were only 2,100 federal data centers in 2011.
In 2014, Datacenter Dynamics reported that the federal government was able to save over $1 billion by shuttering data centers and consolidating their computing functions. The goal at the time was to close about half of the existing 9,000 data centers by 2015, but the current existence of nearly 12,000 facilities, as Miller said, means that the opposite has taken place: The number of government data centers has only grown, so they need to figure out how to minimize downtime associated with these facilities.
Maintain data center health
How can government organizations be sure to maintain their systems and minimize unexpected downtime? When federal, state and local programs are on the line, it's critical to ensure that data center facilities are kept at the proper temperature and humidity levels, manage power usage correctly and are physically safe from harm.
Enter monitoring solutions from Geist. With these sensors, data center managers can make sure the different variables within their server rooms remain consistent, facilitating uptime. Watchdog climate monitors, for instance, indicate temperature and humidity so that operators can be sure the facility is functioning at the most efficient level possible. This can help eliminate overheating concerns, which can lead to unforeseen outages and, in the long run, unhappy federal workers and citizens.
Then, once the monitoring implements are in place, data center infrastructure management (DCIM) software brings it all together so that managers can see what's happening on a holistic level. DCIM allows data center managers to view their entire facilities from a top-down view, making it easier to detect inconsistencies and rectify issues before they cause unplanned outages. From a single screen, IT managers can view what's going on in their facilities.