The demand for DCIM is rising: Here's why
The demand for DCIM is rising: Here's why
November 17, 2016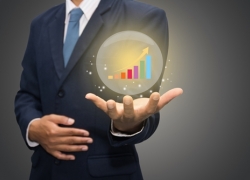 The data center infrastructure management (DCIM) market is on the rise, according to MarketWatch. Through 2020, the global DCIM market will grow at a compound annual rate of nearly 15 percent. Why?
The most on-the-nose explanation is that we're making more data, necessitating more data centers. And while that's certainly part of DCIM's growth equation, there's actually a lot more to it than that:
The 'data center in a box' trend
In its study, MarketWatch attributes the rise in DCIM to a specific trend: data center containers. These are more or less what they sound like. Servers, cooling components, power infrastructure, racks and cabinets are assembled as usual, but instead of being laid out in a building, they're squeezed into a cargo shipping container. The benefits of this system, according to industry expert Christian Belady, is scalability, energy efficiency, easy installation and the long-term potential for improved return on investment.
The interesting thing about contained data centers is that they're modular, meaning that multiple containers can be combined at a single site to expand the overall computing capacity. In fact, Microsoft built out a 700,000 square-foot data center in Chicago using containers. Of course, this method of data center construction isn't without its challenges. For instance, each container is designed to be self-sustaining, meaning it has its own cooling components and power infrastructure built into it. As such, management of these modular units is inherently more demanding. Rather than several spread-out wings of a large facility, managers are dealing with hundreds of different containers, each with its unique arrays and conditions.
This where DCIM comes into the picture. The purpose has always been to simplify management of the many components that make up a data center. Metrics pertaining to environmental conditions, power usage, equipment health and future capacities are accessible on one screen. For containerized data centers, especially in one as large as Microsoft's facility, that level of insight will be essential. It wouldn't be unfair to say that DCIM is really what makes data center containers possible in the first place.
Sustainability is becoming central to ROI
The benefits of conserving energy in the data center haven't been lost on any industry or sector, and it's no secret that DCIM will play a central role in improving facility efficiency.
By 2017 (which is just around the corner), the DCIM market is expected to be worth $3.14 billion, up from $307 million in 2011. One of the main drivers of growth in the past five years, according to the report, has been the increasing need for more sustainable data center infrastructure. Thanks to its ability to aggregate and parse massive data sets and then display findings in a visually intuitive layout, DCIM makes it easy for managers to identify inefficient use of resources.
As more data center managers endeavor to control operational expenses, DCIM will be central in optimizing operational efficiency (That's part of the reason why the feds now require government data centers to use DCIM).
Optimization and automation of workflows
"Facility staff has everything it needs to make smart operational decisions."
Reducing the time it takes to complete certain tasks while increasing overall productivity is a universally sought after achievement. In the data center, business stakeholders, facility managers, operators and technicians have all sought to simplify their operations through the use of better technology – case in point DCIM.
With DCIM's bird's-eye view of the data center, paired with its ability to drill down for more granular insight, facility staff has everything it needs to make smart operational decisions. Capacity planning and predictive modeling take this a step further by letting management map out scaling efforts.
What's more, as sensor-based, machine-to-machine technology becomes more sophisticated, and as prescriptive analytics evolve, DCIM's capabilities will only become richer. Who knows, maybe in the next 50 years DCIM will make it possible to build completely self-sustaining data centers.
It's a big idea, but if anything can make it happen, it's DCIM.