DCIM at the heart of data center efficiency
DCIM at the heart of data center efficiency
December 1, 2015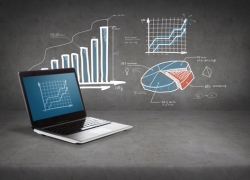 Climate monitoring, power distribution units, cooling components, racks, cabinets and chimneys all have a special significance in the data center. But perhaps the single most important word in a data center manager's vocabulary is a household term: efficiency.
In the many forms that it takes, efficiency informs just about every operational component of a data center, including power, cooling, monitoring, management and more. It's is the ultimate goal of any data center operation. Here's how to achieve it.
It starts with power, cooling and monitoring equipment
Most data centers have a long way to go before they can be considered energy efficient. However, recent projections indicate that the growth of the green data center market is imminent. Mordor Intelligence predicted that the global green data center market will likely witness a compound annual growth rate of around 26.44 percent between 2015 and 2020.
Beyond the benefits to the environment, green data center infrastructure is squarely aimed at improving operational efficiency, principally because it reduces the amount of energy, and therefore the OPEX, that goes into powering and cooling a data center facility. The result is a greater return on investment.
The best way to transition into data center efficiency is through the careful selection of PDUs and cooling components. Make sure that no energy is wasted. Deploy rack-based cooling components in high-density areas and hot spots, and leverage cabinet or row-based cooling components in low-density areas.
Install surge suppression power strips with on-site or remote monitoring capabilities to minimize the impact of hazardous voltage spikes and to guarantee that electricity is being used at maximum efficiency. Ensure that the tools and sensors needed to monitor power usage and climate are in place.
DCIM brings it all together
Leveraging the right cooling components and PDUs and laying the groundwork to effectively monitor this technology is only half the battle. The other half, and the component that ultimately brings everything happening under a data center's roof together, is data center infrastructure management. Without DCIM, data center metrics can lose their meaning.
For example, the findings of a recent study conducted by global consultant firm Anthesis revealed that an estimated 30 percent of servers are zombie servers. In other words, they are comatose servers that continue to leech energy despite the fact that they're not serving any key function. Even if the PDUs and cooling components are functioning flawlessly, the existence of these zombie servers is a huge setback to operational efficiency.
This is where DCIM software can come into play. DCIM can identify these zombie servers, so they will no longer needlessly consume resources.
By aggregating data gathered by power and climate monitoring tools, DCIM gives data center managers a comprehensive visualization of the entire facility on a single screen. Temperature, humidity and power consumption throughout the entire data center facility can be monitored for general effectiveness, but can also be assessed down to the finest detail.
These extensive and intensive management capabilities, which can only be achieved through a reliable solution such as Geist DCIM, will precipitate the greatest reward a data center manager could ask for: efficiency.