DCIM and IoT in the data center
DCIM and IoT in the data center
September 23, 2015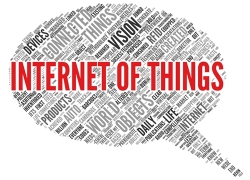 The Internet of Things, or the global network of connected objects, is growing at a rapid pace. According to a 2014 Gartner study, there will be at least 25 billion connected things by 2020, a staggering leap from 2015's 4.9 billion. While the IoT will be utilized by industries across the board, the data center and colocation business stands to gain much by implementing strategies that incorporate the IoT.
But how can data center managers know they're taking proper advantage of the IoT in their facilities? With monitoring and reporting tools like sensors and data center infrastructure management software, IT staff can be sure to reap the benefits that the IoT will no doubt bring to the data center environment. Let's take a look at the ways sensors and DCIM can help maintain a healthy facility and ensure maximum uptime when the IoT becomes more widespread.
Better sensors and monitoring
One area where the IoT will be instrumental to maintaining data center health will be its usefulness where sensors and monitoring are concerned. By incorporating smart technologies into the data center, facility managers are able to keep track of metrics within the facility and keep operations flowing steadily. According to No Jitter contributor Gary Audin, sensors that measure temperature, humidity and electricity use are essential tools that can contribute to the reduction in operational and capital expenditures, help data centers maintain a high level of uptime and support future company growth.
"Environmental monitoring with alerts can reduce potential problems such as the presence of water, smoke and open cabinet doors that could impair cooling," Audin wrote.
What does this mean? In effect, sensors these metrics to manage hot spots and control airflow within the data center. With these kinds of smart sensors, managers can increase cooling efficiency and improve uptime.
Be prepared with DCIM
Data center managers need to be ready for the explosion of IoT-connected items in the near future. Another Gartner study found in 2014 that the advent of the IoT will be a disruptive force within the data center, and it will pay off in the long run to make preparations now for the large quantities of data that will be generated by this network of connected objects within computing facilities. The growth of the IoT will lead to an increase in storage capacity, according to ComputerWeekly contributor Cliff Saran, and also change how data is utilized within computing facilities to drive growth.
"Processing large quantities of IoT data in real time will increase the workloads of data centers, leaving providers facing new security, capacity and analytics challenges," said Fabrizio Biscotti, research director at Gartner.
How can managers be prepared for this hefty increase in data brought on by the IoT? Here is where data center infrastructure management tools come in. Investing in DCIM solutions like the ones offered by Geist is the first step to being ready for the new capabilities and necessary analytics that the IoT will bring to the proverbial table. Biscotti stressed the importance of implementing "more forward-looking capacity management platforms" that allow managers to align IT and operational technology - in short, DCIM.
DCIM allows managers to take the data provided by environmental sensors and turn it into strategies for better operations. This in turn leads to a better-managed environment that can improve energy efficiency and cut costs in the long run. As the IoT continues to grow, companies need to make sure they're utilizing all the tools available to them to keep their computing facilities functioning at optimum capacity. DCIM solutions can help.