2012 Geist DCiM Symposium
2012 Geist DCiM Symposium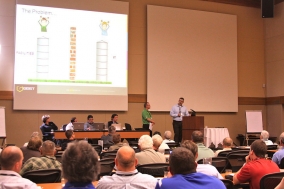 14 May 2012, Denver, CO—Geist DCiM hosted the first annual Geist DCiM Symposium on May 2-4th in Denver, Colorado. With over 100 participants the two day symposium brought thought leaders and industry professionals together to discuss current industry trends, needs, and innovations. The 2012 Geist DCiM Symposium offered general training sessions with two BICSI accredited classes as well as product training for Geist DCiM systems, Environet and Racknet. The event included DCiM Case Studies, a Data Center Manger Discussion Panel and a Technology Showcase where sponsors met with attendees and exhibited their product sets.
"The interest we received from our attendees really showed us how valuable an event like this is for our industry. Being able to discuss current trends and challenges that professionals continue to see in the industry gave us the chance to explore current standards and the opportunities for improvement," says Geist DCiM President, Matt Lane.
The 2012 Geist DCiM Symposium consisted of four general sessions and eight breakout sessions. Among others, topics included Environet System Training, Communication Protocols Overview, Racknet System Training, Toolset Training, DCiM Best Practices and Products Roadmaps.
"Our primary goal for the symposium was to create valuable content for our attendees and discuss relevant industry issues—and we accomplished that. The symposium was very successful. We've received a lot of positive feedback from both attendees and sponsors. We look forward to continued success at next year's DCiM Symposium," Lane explains.
Details on the 2013 Geist DCiM Symposium will be available starting this fall on Geist's website.