Looking for a way to manage data center air temperature?
Looking for a way to manage data center air temperature?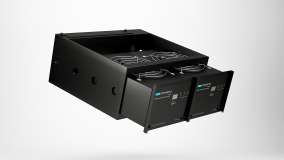 Opengate by Geist's unique intelligent containment system offers one of the most effective methods to manage data center air temperature. By regulating IT intake air temperature to within a few degrees of the supply air temperature throughout a data center. Our flexible containment solution allows you to scale IT load without disruption and control all aspects of your cooling circuit.
Geist's intelligent containment works with data centers of any size and capacity. By containing and directing hot air, the Opengate delivers significant cost savings while improving the long-term reliability of mission critical IT equipment.
Get Cool in two-and-a half minutes from Geist on Vimeo.
Opengate's host controller software is the brains behind the solution. Pressure sensor information is fed into the software, which is then translated into commands that raise or lower fan speed based on the server load. The bottom line: Opengate's Intelligent Containment is the only dynamic data center containment product available that monitors pressure within the cabinet. As a result, with Intelligent Containment you can simplify the management of data center cooling through containment optimization, making your data center more "green," and lowering costs.