Geist Supplies Small Network Room Cooling with RAC10
Geist Supplies Small Network Room Cooling with RAC10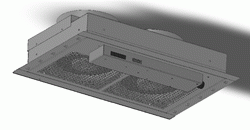 August 12, 2013 — Geist develops intelligent fan system that monitors and evacuates heat from small network/IT rooms and data center closets.
The self-contained RAC10 system installs within standard ceiling tile structures or walls and is designed to remove heat generated by critical IT equipment housed in confined spaces. Sensors monitor the room temperature and automatically control the speed of RAC10 fan units as the temperature fluctuates.
"Thousands of businesses rely on small network/IT rooms; the RAC10 provides a simple yet sophisticated method to protect these critical resources from overheating," said Brad Wilson, Executive Vice President of Geist. "Most facility departments can easily install the system and have it operational within a few hours."
For larger IT rooms, users can implement multiple RAC10 units to manage greater airflow demands.

# # #

About Geist
Geist designs and manufactures intelligent hardware and software for the four cornerstones of data center management: Power. Cool. Monitor. Manage. Independently, each Geist product line offers industry-leading capabilities and technology. Together, these products combine to create a comprehensive system for maintaining a secure and efficient data center. With a host of scalable systems for single cabinets, entire enterprises and everything in between, each customer benefits from data center infrastructure management (DCiM) solutions custom-fit for their specific needs. From its worldwide headquarters in Lincoln, Nebraska, Geist and its products have revolved around the customer since the company was founded in 1948. For more information, visit www.geistglobal.com.