Geist opens new headquarters amid growth - Lincoln Journal Star
Geist opens new headquarters amid growth - Lincoln Journal Star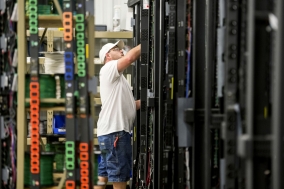 SUNDAY, JUNE 19, 2016
KEVIN ABOUREZK Lincoln Journal Star
City officials helped a growing Lincoln manufacturer Friday celebrate the opening of its new headquarters.
Mayor Chris Beutler said Geist is bucking the trend toward moving manufacturing operations outside the United States and helping compete against China's manufacturing dominance.
"We actually manufacture here and ship to China," said Sam Featherston, president of Geist's parent company, PCE Inc.
Geist -- the world's third largest manufacturer of power, cooling and monitoring equipment for data centers -- celebrated the construction of a new 87,000-square-foot headquarters Friday. The $12.5 million building at 1777 Yolande Ave. is next to its former headquarters.
The company's new building provides office, manufacturing and warehouse space for Geist. Company officials said Geist had outgrown its current 50,000-square-foot manufacturing facility.
The company constructed the new building with about $1.25 million in tax increment financing. The TIF funds were used primarily for site preparation, sidewalks and energy efficiency and façade improvements.
TIF financing uses bonds that are repaid with the increased property taxes paid on the new development.
Lt. Gov. Mike Foley, City Councilman Carl Eskridge and other local dignitaries attended a ribbon-cutting event for the facility Friday. Gov. Pete Ricketts toured the building Monday.
"This investment from Geist is a perfect example of how Nebraska can successfully compete in the global marketplace to grow our state," Ricketts said in a statement.
Wendy Birdsall, Lincoln Chamber of Commerce president, said Geist has established itself over nearly 70 years as a valued and caring employer in the city.
"This is just exactly what we need for this community to help grow it," she said.
The company employs more than 110 people. Its parent company, PCE, employs nearly 275 people in Lincoln and another 145 in offices across the world, including in China and England. The company sees nearly $75 million in revenue per year.
The company owns a host of subsidiaries, including HTI Plastics, Apex Plastics, Lincoln Plastics and companies in Europe and Asia.
Featherston said Geist had its strongest month of production in March, around the same time the company moved into its new headquarters.
"We just went through an enormous surge in business," he said.
On Friday, Beutler read a proclamation naming June 17, 2016, as Data Center Manufacturing Day in Lincoln in honor of Geist's expansion.
The company began in 1948 by making equipment for Lincoln's telephone system.
"Not a lot of companies survive 60 years and going strong," he said. "Geist places a high value on community, family and customers."