Geist Europe Manufacturing Facility Earns Prestigious Award
Geist Europe Manufacturing Facility Earns Prestigious Award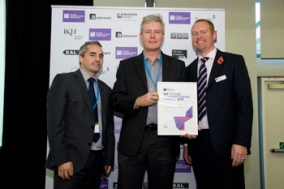 Taunton, United Kingdom, November 15, 2013 - Geist, a global manufacturer of data centre infrastructure products, was recognised as a runner up for the EEF Future Manufacturing Awards for Operating Practices and Processes in the South West Region of the United Kingdom.
The EEF Operating and Processes Award is given to the company that successfully designs and implements new operating practices and or processes during a business restructure.
"The recognition by the EEF demonstrates the importance Geist places on constantly improving operations process and continuing to elevate our high manufacturing standards. It is an honour for Geist to join the ranks other global manufacturers like Rolls Royce and Airbus in being recognised by the EEF," said Mike Sharpe, Geist Europe's Operations Director.
The EEF Future Manufacturing Awards celebrates the best in UK Manufacturing, rewarding success in a multitude of areas such as strategic growth, export, operation change, product development, health and safety culture, environmental initiatives, partnerships with education and skills and development.
# # #
About Geist
Geist designs and manufactures intelligent hardware and software for the four cornerstones of data centre management: Power. Cool. Monitor. Manage. Independently, each Geist product line offers industry-leading capabilities and technology. Together, these products combine to create a comprehensive system for maintaining a secure and efficient data centre. With a host of scalable systems for single cabinets, entire enterprises and everything in between, each customer benefits from data centre infrastructure management (DCiM) solutions custom-fit for their specific needs. From its worldwide headquarters in Lincoln, Nebraska, Geist and its products have revolved around the customer since the company was founded in 1948. For more information, visit geistglobal.com.