Geist Environet earns critical acclaim
Geist Environet earns critical acclaim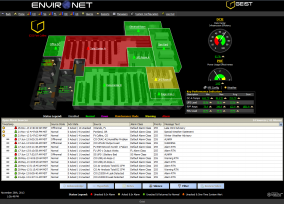 October 20, 2014- Lincoln, NE - Back in August, CRN named Environet among its top 10 data center "software blockbusters". The fourth version of Environet was rolled out in January, equipped with a range of new asset management tools designed to provide enhanced efficacy when managing rack equipment across the data center.
Featuring an accessible design and graphically-impressive interface, Version 4 of Geist's Environet is the best yet - making the task of monitoring the data center easier than ever.
"Our goal when we were developing the fourth version of Environet was to provide a DCIM solution that not only boosted efficiencies but also brought facility-based real-time monitoring and IT-based asset management solutions closer together," said Matt Lane, president at Geist DCIM.
"Receiving critical acclaim from such a respected specialist tech news outlet as CRN suggests we've gone a long way towards achieving our aims with Environet," he added.
Enabling enhanced visibility over and management of power consumption, cooling and environmental, Environet from Geist allows users to make informed data center management decisions quickly - without having to resort to guesswork. In addition, Environet provides the user with extensive toolsets so that potential problems can be dealt with effectively before serious damage occurs.
Environet features a web-based user interface and issues immediate notifications whenever an alarm condition is triggered. It provides real-time access to holistic information encompassing assets, power, process and environment - thereby empowering users to make proactive data center management decisions.
Among the numerous benefits of Environet is that by uncovering stranded capacity and maximizing energy efficiency, it can significantly reduce running costs. Environet can also enable effective planning for future expansion, allowing for greater flexibility.
# # #
About Geist
Geist designs and manufactures intelligent hardware and software for the four cornerstones of data center management: Power. Cool. Monitor. Manage. Independently, each Geist product line offers industry-leading capabilities and technology. Together, these products combine to create a comprehensive system for maintaining a secure and efficient data center. With a host of scalable systems for single cabinets, entire enterprises and everything in between, each customer benefits from data center infrastructure management (DCiM) solutions custom-fit for their specific needs. Founded in 1948 and headquartered in Lincoln, Nebraska with offices in Asia Pacific and Europe, Geist offers truly global solutions that revolve around customer requirements.
For more information about Geist please visit our website www.geistglobal.com