Geist Attends 2011 Uptime Institute Symposium
Geist Attends 2011 Uptime Institute Symposium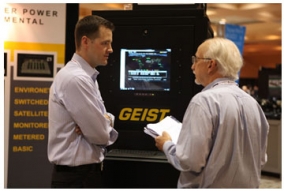 24 May 2011, Santa Clara, CA–Geist attended and presented at the 2011 Uptime Institute Symposium in California. A number of data center thought leaders and influential professionals were in attendance for a presentation by Matt Lane, President of Geist DCIM, on Data Center Infrastructure Management (DCIM) Best Practices. In addition, the breakout sessions offered practical examples of data center management concepts that are easily implemented and yield substantial results.

Geist also had great success in the booth at the show. Steve Lewis, Director of Sales says, "We had many meaningful conversations with data center professionals looking to take control of their facilities, both from a monitoring and efficiency standpoint. It was an exceptional show."
Overall the Uptime Symposium brought together professionals who were extremely impressed with the ability Environet offers to assist them in automating processes, substantiate efficiency initiatives, and increase operational awareness. Lewis explains, "After attending the show and speaking with the patrons, I am confident that the Environet feature set meets the unique business drivers of data center professionals. We will continue to listen to our clients and enhance Environet in order to meet the ever changing demands placed on our end users."

In addition, Geist would like to congratulate our sister company, Opengate Data Systems, for receiving the prestigious Green Enterprise IT (GEIT) award from the Uptime Institute for the Outstanding Facilities Product in a User Deployment. Congratulations on receiving the Uptime Institute's highest honor.