Stop sneaker reports in their tracks with intelligent PDUs
Stop sneaker reports in their tracks with intelligent PDUs
July 13, 2017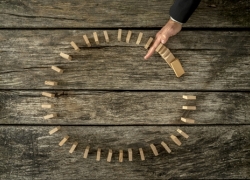 Anyone who's worked in a data center has probably heard the phrase "sneaker report," which is unfortunate. Because much like the smartphone obviated the pager, in theory data center power monitoring capabilities should have eliminated the need to manually meter power consumption.
However, not all data centers have made the switch from basic power metering to remote power monitoring. The U.S. government's Data Center Optimization Initiative (DCOI), for instance, only recently started requiring federal agencies to deploy advanced metering systems. By September 2018, agency data centers will be expected to report accurate power consumption information to the Office of Management and Budget.
In the case of the federal government, performance optimization is the driver for advanced metering systems. However, for colocation and cloud facilities, the entire revenue model is at stake. Without billing-grade accuracy, these data centers risk under- or over-charging clients.
An antiquated technique
According to Allied Market Research, the global colocation market will be worth $51.8 billion by 2020. As this growth occurs, colocation managers will be under pressure to capitalize on new opportunities, rather than focus on menial, repetitive tasks. Namely, they shouldn't have to concern themselves with sneaker reports, which literally entail walking to each meter and taking a live recording of how much energy a client is using.
In addition to being inconvenient, the process is inaccurate. Power consumption will vary by time of day, which means that facility operators are calculating a mean for clients, rather than recording how much energy they're actually using. In reality, colocation facilities should have utility-grade metering, which records power consumption with a 1 percent margin of error. This level of precision is crucial for accurate billing, for the client's sake and for the facility's.
A desire for transparency is changing the game
Manual power metering also seems to go against the grain of a somewhat recent trend impacting the colocation market. An increasing number of colocation data centers are even starting to provide customers with access to tools such as data center infrastructure management (DCIM) as part of their offering to the tenant, according to Network World contributor Robert S. Lindsay.
For one, this establishes good faith between colocation facilities and their clients, by showing that they're not trying to hide anything. From the customer's perspective, it's easier to make sure that the facility is conforming to service-level agreements. Equally important, customers can look at the same electrical metering data as facility operators.
For this to be feasible, though, or for DCIM to add value to data center power management, facilities need power monitoring infrastructure that can accurately and remotely record, store and analyze power consumption. Without this, they may as well be doing sneaker reports.
The intelligent solution: PDU-based monitoring
"Procure precise metrics about the power load of a specific client."
In addition to remotely monitoring power usage for performance and efficiency, intelligent power distribution units (PDUs) can accurately track power load per client, down to the outlet. Significantly, this happens in real time, all the time. So, rather than approximating energy usage per customer based on sneaker reports, management can procure precise metrics regarding the power load a certain client uses over the course of the entire billing cycle. The result is the ability to achieve 99 percent billing-grade accuracy.
Beyond billing, precision power monitoring is useful for optimizing data center operations in preparation for scaling – and it's not just the colocation market that's growing. The cloud services market is also increasing, and at a compound annual rate of 17 percent. With granular insight into how much money customers are spending, what their peak power loads are and how those loads impact environmental conditions (intelligent PDUs also come equipped with ports environmental monitoring), data center operators can significantly improve capacity planning.
And finally, remote, detailed power monitoring through a PDU can enable automatic alerts in the event that even a single piece of equipment goes offline or loses power. This level of 24/7 vigilance enhances data center reliability and enables quick responses to incidents that risk disrupting business continuity.
Myriad functions are made possible in a very small amount of rack space with intelligent PDUs. If anything, stopping sneaker reports in their tracks is one of the more basic benefits of advanced power infrastructure. Be that as it may, precise billing is a crucial aspect of managing a colocation data center, and one that should be implemented sooner rather than later.