Renewable energy requires effective PDU and monitoring technology
Renewable energy requires effective PDU and monitoring technology
October 8, 2015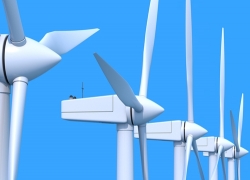 Energy efficiency is an important term causing a stir within the colocation industry in recent years. As industry leaders try to move toward improving energy-efficient practices and better utilize the power coming into their facilities, other companies are beginning to take note of the cost savings and boost in reputation being enjoyed by giants like Google and Facebook. Data center businesses are beginning to make that shift toward renewable energies - and their facilities need to be prepared.
For instance, according to Yevgeniy Sverdlik of Data Center Knowledge, Equinix recently decided to make an even bigger investment in renewable energy. Equinix, which is the world's largest data center service provider, signed a contract with SunEdison, the world's largest renewable energy development company, in hopes to decrease its global energy consumption - making Equinix's total energy use 43 percent renewable instead of the current 30 percent. This contract with SunEdison will give Equinix access to 105 megawatts of power from a solar farm to be built near San Diego, according to Fortune, enough solar energy to offset the carbon footprints of all its 12 California data centers.
Similar moves are taking place with companies across the board. Amazon, for example, recently announced it would be building a 208 megawatt wind farm in North Carolina, The Economic Times reported at the beginning of September. The farm will begin operation in 2016 and generate 670,000 megawatt-hours of power per year.
Prepare equipment now
The continued move toward renewable energy is indicative of changing mindsets within the industry and is partly driven by the desire to cut costs, as well. There are a few things that data center managers should remember when looking to invest in new equipment for their facilities - namely, that the kind of power distribution units installed in the server room will impact energy utilization across the entire building. This means that even at the smallest level, PDUs can dictate how much money a company is spending to run and cool high-powered servers.
According to ITBusinessEdge, one way to improve efficiency in the data center is by reducing the amount of power flowing to cooling systems. The equipment required to maintain an acceptable temperature in the server room - not too hot, in case of fire, but not too cold, because of electricity costs - may consume more than half of the power moving through the facility. Eliminating cooling inefficiencies can help reduce this number.
Being able to keep tabs on the amount of power coming into and being utilized by a data center is also one of the biggest ways managers can help keep electricity expenses on the reasonable side. EnergyStar noted that switched-rack PDUs can help make workflows more efficient by maintaining control of individual outlets. In addition, the real-time power data gathered by metered PDUs allow managers to more fully understand their facilities and prepare for hotspots or power surges.
Power monitoring and equipment efficiency
When data center managers have all the information possible about their facilities, they can make informed decisions that impact how the data center runs. In turn, they can understand the direct correlation between power use, temperature and energy expenditures. Power distribution units with built-in monitoring can help companies offset rising power costs, because knowing how energy is flowing throughout the facility allows managers to make important decisions regarding power consumption and cooling systems.
Investing in monitoring and PDU solutions from Geist could make a difference in helping colocation companies become more efficient and cut energy costs while supporting renewable energies. Contact Geist today for more information.