Pay attention to these 5 rack PDU details
Pay attention to these 5 rack PDU details
May 3, 2018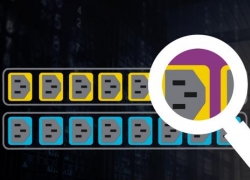 Once upon a time, a power strip was a power strip. Then, along came customizable rack power distribution units. The bright side is that modern PDUs have greater depth of capability than ever – real-time monitoring, remote switching, interchangeable monitoring devices (IMDs), etc. The tradeoff is that there are more variables to consider when choosing between PDU types and PDU manufacturers, and the last thing you need is another case of decision paralysis.
To give you a better idea of what to look for in a PDU, we've compiled the following list of details to pay attention to. In no particular order:
1. Color-coding
It sounds cosmetic, but it's not. Many data center managers are using color-coded chassis to distinguish between their A and B power power feeds in rack setups. This helps ensure proper load balancing between supply feeds when new equipment is installed or when on-site maintenance is necessary.
But it doesn't stop there. Individual outlets can also be color-coded based on their circuit. This can improve load-balancing on the actual PDU itself to prevent accidentally tripping an individual breaker.
2. Visible light communication
Any PDU (basic or intelligent) that comes with a graphical interface should ideally enable visible light communication (VLC) in case that power strip need to be taken off the network. This is important because a data center manager may want to airgap power infrastructure for security reasons. Without VLC, staff will need to manually write out power metrics as they scroll across a tiny GUI.
With VLC, on the other hand, a secure mobile device with a camera can scan a barcode on the GUI, and then auto-generate a power report for that PDU. It's a literal snapshot of the power strip's metrics that saves quite a bit of time and ensures accurate power distribution data.
3. 1 percent power accuracy
Speaking of collecting power data, the old universal standard for billing accuracy in the data center was 5 percent. However, today's expectation is 1 percent, and for good reason: Clients want to only pay for the power they use, and colocation managers don't want to end up charging for less than they're owed.
Therefore, power monitoring at the rack PDU level needs to happen in real time. This ensures 1 percent billing accuracy, and just as importantly, it provides peace of mind for managers who can be sure that power data is current up to the second.
4. High-temperature grade
"We recommend a 60 degrees C (140 degrees F) operating threshold."
Let's face it: The data center is hot and getting hotter as more facility managers explore equipment temperature limits a la Google. Nevertheless, every piece of equipment has its threshold, and that includes PDUs. If the ambient operating environment exceeds a safe level, the power strip could fail, which would take other equipment down with it.
To prevent this from happening, make sure the PDU that you purchase (whether it's basic, metered, monitored or switched) is high-temperature grade. To be safe, we recommend a 60 degrees Celsius (140 degrees Fahrenheit) operating threshold.
5. Locking receptacles
The second most prolific source of data center downtime is human error (22 percent). Everything from spilled drinks to accidentally unplugging a power cord can result in unplanned downtime, which costs nearly $9,000 per minute on average. While there isn't much we can do about the spilled drinks (liquids and electronics just don't play well together), better cable management can prevent cords from becoming accidentally unplugged, either from a footfall or from vibrations in the data center.
That's why locking receptacles have become an industry standard for PDUs. They can lock out even the silliest sources of downtime. And while they may appear last on this list, don't de-prioritize them. Losses from downtime are devastating, regardless of what caused it in the first place.