Minimize server downtime with an intelligent DCIM solution
Minimize server downtime with an intelligent DCIM solution
June 29, 2015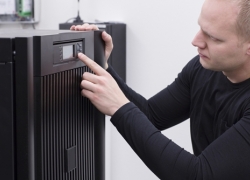 Data center downtime could and does spell disaster for unprepared companies. For instance, on June 21, a Hong Kong data center operated by Aliyun, the cloud computing unit of Chinese e-commerce site Alibaba, experienced 14 hours of costly downtime. According to Caixin Media, there were conflicting reports as to the reason for the shutdown. Still, whether it was a severed Internet cable or a true power outage, these kinds of situations are unacceptable and can cost service providers millions or even billions of dollars in damages.
Aliyun had to explain to its customers why they couldn't access their data, and its newly opened Silicon Valley data center may suffer from the damage caused to the company's reputation as a result of this downtime incident. How can this situation be prevented? Data center infrastructure management tools allow IT managers to have eyes on the entire facility and can help prevent a crisis situation like the one faced by Aliyun - because companies don't want to have to face the kind of recovery required by that event.
There are plenty of benefits of implementing a successful DCIM solution. According to Tech Republic contributor Scott Matteson, these advantages may include the maximization of system utilization for increased efficiency, the consolidation of resources or server locations and the enablement of future planning for the data center. However, one of the most important advantages a DCIM solution offers is the ability to maximize server uptime and prevent costly outages. Via asset tracking and multi-layered monitoring in real time, DCIM can help facilities detect and troubleshoot issues before they become nuisances leading to unplanned downtime.
"The goal of DCIM is to unify [monitoring systems] within one centralized point of administration so 'the left hand knows what the right is doing' - and so do all the other pieces of the puzzle," Matteson said.
Real-time monitoring of data center assets
DCIM solutions create and aggregate data sets that allow managers to see what's happening on the server room floor at all times. Data Center Dynamics contributor Yevgeniy Sverdlik said that monitoring airflow, humidity, temperature and energy consumption contributes to maintaining the health of the data center.
"The [DCIM] software uses that data to create a digital model of the infrastructure, updating it as changes occur," Sverdlik said. "The model, ideally presented in an accessible graphical format, is a key aspect of a DCIM solution, as it visualizes interrelationships between devices in the infrastructure. An analytical engine is what interprets the data the solution collects to find problems or inefficiencies."
These inefficiencies and problems can cause downtime that companies can't afford. Maintaining the health of mission-critical data center systems can ensure maximum server uptime and help prevent unsavory circumstances, and DCIM offers the best way to do that. By creating schematics and analyzing data sets detailing the overall functionality of the server room, managers have a comprehensive bird's-eye view of their facilities. The software then performs predictive analyses, which become the basis of capacity planning decisions. For instance, power use can be closely watched for inconsistencies.
DCIM solutions like the ones offered by Geist could be the most powerful weapon in your arsenal against data center downtime. Minimizing what could be long-lasting effects of offline servers is of utmost importance, and the most effective way to minimize that impact is to prevent disaster in the first place. Geist's Racknet solution allows data center managers to monitor mission-critical equipment from multiple access points around the facility. It also comes with an alarm system so that outages can be prevented through quick detection and troubleshooting.