How transfer switches back up data center equipment
How transfer switches back up data center equipment
January 26, 2016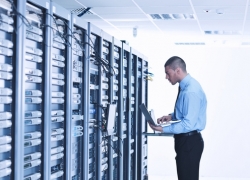 Power outages can create huge kinks in any operation, but they can be especially disruptive for data centers. Downtime that occurs as a result of a power interruption can be costly, and for some businesses, it can herald the beginning of the end. According to Infosecurity Magazine, unscheduled IT outages can pose serious cybersecurity hazards and can cost as much as $1 million per hour. At that rate, frequent or unusually long-lasting outages are simply unsustainable.
Guaranteeing that there is an uninterruptible power source is therefore a top priority in the data center. It's vital that critical data center equipment stays up and running, and that if something does go wrong, transfer switches kick into action.
Power management challenges
Energy consumption significantly factors into the high operational expenses of a data center. Multitudes of electronics are constantly using electricity. Servers, lighting and cooling components are only some of the electronics that stay running on a near-perpetual basis.
Furthermore, various areas of a data center may consume greater amounts of energy than others. For example, a cluster of high-density racks might create a hotspot. In addition to the energy needed to power racks and cabinets, cooling components must stay up and running in order to keep equipment from overheating. In such situations, data center management is faced with the task of making sure power loads are balanced, which is accomplished with the use of power distribution units in chorus with power monitoring tools. These help ensure that equipment changes don't overload a PDU.
Alas, there's still the question of what happens when an outage foils all of a data center manager's attempts at meticulous power management. Power outages can be caused by nearly anything. According to DatacenterDynamics, squirrels chewing through wires, thieves cutting through data center walls in order to steal network cards (this really happened) and even poorly discarded cigarette butts are all potential catalysts for outages. By this logic, loss of power at some point is an inevitability.
"Power outages can be caused by nearly anything."
Enter transfer switches. A secondary source of power must be ready to sustain equipment in order to avoid lengthy and costly downtime, and transfer switches deliver the power between redundant supplies to equipment with a single power input. Without them, it would be impossible to back up all data center equipment.
Transfer switches
The primary function of all transfer switches is to seamlessly shift into the secondary source of power so that equipment stays up and running. This switch happens automatically, and it takes place in a matter of milliseconds. Upon recovery of the main power source, the transfer switch will automatically revert back.
Basic transfer switches are the ideal solution for single-corded electronics in the data center. However, transfer switches can be infused with other useful features and capabilities. Geist Metered Transfer Switches, for instance, supply the added benefit of a local meter to give visible current readings at the switch.
An uninterruptible power supply is vital to the continuation of service in a data center, but without reliable transfer switches, there is a gap in coverage. In order to ensure that data center equipment is always backed up, it's essential that data center managers give transfer switches the consideration they deserve. Only then can they truly weather an outage and continue firing on all cylinders.