How DCIM helps the government's data center consolidation cause
How DCIM helps the government's data center consolidation cause
March 1, 2016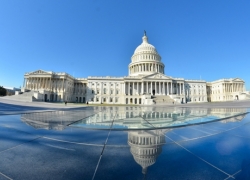 Why does the federal government pay so much attention to data centers?
For one, federal U.S. agencies rely on data center facilities to host applications that support public systems and government workflows. Massive amounts of data aggregated at the federal, state and local levels are stored and accessed via government-operated data centers and, increasingly, third-party cloud facilities.
Secondly, and perhaps more importantly, the federal government has been trying to cut back on its data center footprint since 2011. Data center consolidation has been a top-of-mind initiative spearheaded by the Office of Management and Budget (OMB). The idea is that by reducing the number of data centers used by the federal government and improving the efficiency of data centers, the government can then cut back on duplicative spending and reallocate funds to other projects.
A work in progress
Despite reporting $3.6 billion in savings as a result of moving applications to third-party data centers and shuttering several government-operated facilities, the Government Accountability Office recently uncovered 2,000 data centers that hadn't been factored into initial goals.
In addition to trying to cut back on the total number of data centers, some agencies are also trying to improve the overall efficiency of remaining facilities. According to Data Center Knowledge, the Department of Energy sought to improve data center efficiency through the Better Buildings Challenge. The agency's goal was to improve energy efficiency in government data centers (companies in the private sector were also welcome to participate) by as much as 20 percent by 2020. Even so, the DoE's efforts at data center efficiency are not backed up by legislation.
For the time being, the government's attempts at improving overall data center efficiency are a work in progress.
What can DCIM do to help?
One way that many data center managers in the private sector have sought to improve operational efficiency is with the use of data center infrastructure management solutions. Thousands of relevant data points are generated in a facility on any given day. These may pertain to environmental and cooling factors such as temperature, humidity, dew point and airflow.
Hardware usage and power consumption levels are also integral factors in data center management. Even physical security is a concern, with many facilities relying on dry-contact centers to help alert staff to an unauthorized presence in certain sectors – this especially important in government facilities and government cloud providers.
"Equipment can be managed from a single pane of glass."
The beauty of a solution like Geist DCIM is that it aggregates these complex data sets in real time onto a single platform. This makes the somewhat daunting endeavor of data center management much easier. The vast array of equipment – servers, cooling components, power distribution units, etc. – can be managed from a single pane of glass.
As such, staff can use predictive modeling tools to explore new avenues for operational efficiency. They can calculate metrics as specific as how much power consumption will increase when new hardware is added to the floor, and they can determine if additional power and cooling components will be needed to level out the increase of hardware.
Having the ability to easily manage an entire facility, all of the equipment within, and the volumes of data created on a given day can help government-operated data centers maximize operational efficiency. Over time, this can help cut back on spending, which is why the U.S. government spearheaded data center consolidation in the first place.