DCIM helps financial firms stabilize their data centers
DCIM helps financial firms stabilize their data centers
March 10, 2016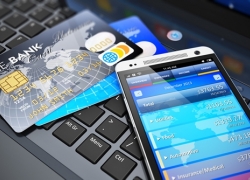 So much depends on effective data center management. Health care organizations, government agencies, and content and media providers, among many others, all rely on these dynamic facilities to support their applications and services, and in many cases, store critical company and customer information. Even financial firms, banks and credit unions included, rely on data centers to operate some of their key services.
In fact, without reliable data center infrastructure management (DCIM), many organizations in the financial sector would find themselves more vulnerable to system downtime. Let's take a look at why stability in the data center is so important to financial firms and how DCIM fits into the equation.
Business uptime
Imagine if your business suddenly became unable to process one of its customers' top used online payment methods, say PayPal, and the only explanation you could give them was that there is some sort of technical difficulty. This is exactly what happened in October 2015, when one of PayPal's data centers went down, leaving millions of online merchants and their customers without the ability to conduct normal business activity. According to Fortune, the outage only lasted two hours, but this was enough to collectively cost online vendors an estimated potential of $51 million.
The moral of the story is clear: Financial firms and organizations that deal with payment processing can't afford data center downtime, and must do everything in their power to prevent it. This includes ensuring that the power distribution units are functioning properly, environmental conditions are ideal and the data center backup systems are available in case of an outage.
This is easier said than done, and it requires the management of thousands of disparate data sets, but that's one of DCIM's strongest assets. Real-time monitoring paired with intuitive dashboards and visualization makes it much easier for staff to stay on top of their facilities to preempt problems that might result in a costly outage.
Stronger compliance and security
Ensuring that data centers supporting financial firms stay up and running is not just a matter of critical functionality; it's also key for Payment Card Industry (PCI) Data Security Standard compliance. If credit or debit card theft occurs because of inadequate security on the data center provider's end, extremely inconvenienced customers and long legal battles could be the end result.
"A data center provides facilities for companies and merchants to house servers as they conduct their business," wrote Data Center Knowledge contributor Nathan Hatch. "In that capacity, the data center provider has specific responsibilities that must follow PCI compliance."
"Many data center managers rely on dry-contact sensors."
One of these responsibilities is to guarantee the physical security of the data center facility. Maintaining uptime is vital for business continuity, but if a data center is compromised due to a physical intrusion and the right authentication practices and defenses were not in place, colocation providers and financial institutions may have bigger problems on their hands than unhappy clients.
This is why many data center managers rely on dry-contact sensors as part of their monitoring infrastructure. These are installed near key entry points and detect motion, alerting staff when there is an unauthorized presence.
Again, DCIM plays a key role here by aggregating this data and streamlining alert systems via real-time update capabilities and the ability to leverage cross-platform functionality. Data center managers can immediately receive alerts in the event of an intrusion or another potential emergency.
Geist DCIM in particular also provides a bird's-eye view of the entire facility, and can visualize data sets such as current network traffic, temperature and other vital metrics. This ability helps managers know what's going on beneath their roof at all times, which helps to achieve strong security, PCI compliance and happier financial clients.
At the end of the day, a stable data center is as vital for financial organizations as it is in any other industry.