DCIM delivers with business analytics and reports
DCIM delivers with business analytics and reports
December 21, 2015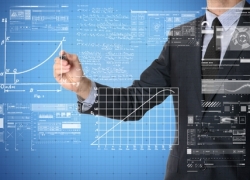 The ability to aggregate data about day-to-day business functions has become extraordinarily useful across the spectrum of industries. Organizations want to have as much knowledge about a given operation as possible in order to quickly pinpoint inefficiencies in processes and subsequently improve them. Doing so can foster a better work environment for employees, but can also enhance the overall quality of the customer-facing product or solution. At the end of the day, this is what leads to bigger profit margins.
This is no different in the data center. With the right metrics sifted through the right analytics tools, data center managers can procure valuable information that will minimize risks of downtime, reduce needless consumption of resources, streamline day-to-day functions for staff and create new opportunities for growth. In this case, the right tool is data center infrastructure management. Let's take a look at some of the ways DCIM can deliver vital business analytics and reports.
Operational efficiency
To some extent, traditional enterprises and offices need to ensure that their physical workplace is not being wasteful when it comes to energy consumption. However, in the data center, resource management is everything. According to the Natural Resource Defense Council, collective consumption of electricity among data centers is on pace to reach 140 billion kilowatt-hours by 2020.
From a business perspective, much of this cost is essential. But a lot of it is also waste that results from inefficient data center infrastructure. Unlike traditional offices, inefficient physical infrastructure is more intrinsically linked to bad business practices in data centers. Wasted energy significantly and directly eats into the bottom line. For example, using rack-based cooling components in low-density sectors of a facility needlessly wastes energy on cooling. Poor load balancing might lead to a greater number of zombie servers. According to a study by Anthesis Group, 30 percent of servers in the U.S. are comatose. In other words, they are idly sucking up electricity.
These are just a few examples of the glaring operational inefficiencies that data center managers must factor into business analytics and reports. Operating expenses for a data center that is running at maximum efficiency are exorbitant as it is. Data centers managers who are allowing their facilities to eat up energy because of bad cooling or zombie servers are essentially shooting themselves in the foot from a business perspective.
Herein lies the problem: Not all data center operators are aware of these issues, and this is exactly what DCIM helps to remedy. It funnels all of the information gathered by sensors for climate and power monitoring into a single pane of glass. Analytics can be as panoramic or as granular as needed, aggregated into reports and used to make better business decisions.
Scalability and business growth
Business growth cannot be achieved in an organization that is anything less than a well-oiled machine. This is especially true in the data center. Ensuring that servers, power distribution units, cooling components and facility layout are optimized can only be achieved with thorough monitoring that is hooked up to reliable DCIM. Data centers are no place for guesswork, and generally speaking, luck plays a minimal role in business growth.
DCIM, however, can help data center managers and business leaders identify trends that might inhibit or encourage scalability. This is because in the data center, metrics such as server traffic, energy consumption, temperature, humidity and dew point are the most important business analytics. Being able to decipher them is essential to the process of obtaining actionable analytics that can help a facility operate with an end goal in mind, especially if that end goal is growth.
Therefore, DCIM doesn't just enhance day-to-day operations in the data center, it creates new room for growth, and eventually, it boosts return on investment. What more could you want from business analytics?