Data center humidity: The wet blanket of the content world
Data center humidity: The wet blanket of the content world
June 10, 2016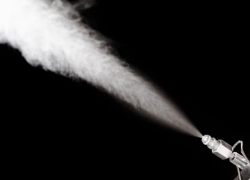 Summer is just around the bend, which means that some parts of the country are getting ready to face oppressively humid conditions. Despite the warm weather, some days will be better spent indoors with air-conditioning, streaming your favorite shows and browsing the web – that is, of course, unless there's an outage at the data center hosting the content.
It's no secret that humidity can wreak havoc on electrical infrastructure, resulting in blackouts. The same is true of the electrical equipment inside a data center. If humidity levels are improperly maintained, it could result in damage to equipment. For content providers, this can cause downtime. For customers, this means no access to content, and that's a serious wet blanket on a day when it's too humid to do anything else but stay inside.
Threats posed by humidity
Water and electronics don't mix for obvious reasons, even when that water is present as vapor in the air. This is because, according to Data Center Journal contributor Jeff Clark, too much humidity can result in condensation that corrodes data center equipment, and may lead to shorts.
However, that's not to suggest that the less humidity present in the data center, the better. In fact, if humidity is too low, electrostatic discharge can be created, according to Data Center Knowledge editor in chief, Yevgeniy Sverdlik.
The secret, then, is to maintain a balance so that air can contain humidity without allowing it to condense on equipment, but there is still enough water in the air so as to prevent static electricity.
Get it 'just right' with climate monitoring
"It takes much more than a basic thermometer."
Generally speaking, the cooler the temperature, the less water in the air. However, if there is a lot of moisture in the air and the temperature drops below a certain point, this water will saturate the air, forcing the water molecules to settle as condensation.
The precise temperature threshold at which this happens is called the dew point. Given this relationship, there are several metrics that must be monitored to ensure that air quality is well-maintained. It takes much more than a basic thermometer, and a failure to appreciate this complexity can result in server reliability issues, and eventually, equipment failure.
The best way to ensure that temperature and humidity have a proportionate relationship is with a climate monitoring solution such as Geist Watchdog Monitors. Temperature, humidity and dew point can all be tracked remotely, making it easy for data center managers to maintain ideal environmental conditions, and thereby reducing the likelihood of data center disruptions.
Summer is nearly upon us. Don't let humidity bog down your bottom line.