California drought impacts data center cooling
California drought impacts data center cooling
June 17, 2015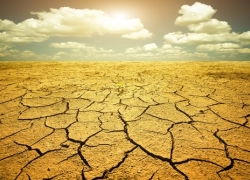 Environmental concerns can affect the operation of data centers, especially data room cooling. Sustainability is an important part of operations, and attention has turned of late to making sure data hosting and computing facilities have less of an impact on the environment and maintain as small of an emissions footprint as possible. For instance, open-air cooling has been an important model in the past for companies being able to use natural resources to keep their servers from overheating. The conversation on sustainable cooling is becoming increasingly more relevant too as drought conditions intensify for the western half of the U.S., and many are wondering about the ability of data centers to remain cool and keep servers running in the current extremes.
Everyone affected by drought
On April 1, California Governor Edmund G. Brown, Jr. declared mandatory water rations for the entire state. This announcement came in response to havoc-wreaking drought conditions that have persisted for the better part of two years. At the beginning of June, a mandatory water conservation rate of 25 percent went into effect. Water is scarce there - and the government is getting involved to prevent wasteful water use and make sure there is enough water for human health and safety, growing food, fighting fires and protecting fish and wildlife.
These drought conditions have far-reaching effects for everyone, but the tech industry especially has been impacted. Tech companies have traditionally flocked to the San Francisco Bay area. However, with the drought as serious as it is, companies reliant on water systems to cool their facilities might find themselves wishing they weren't using hydrocooling. According to the Santa Clara Valley Water District, 40 percent of the county's water comes from the Sacramento-San Joaquin River Delta watershed, and as the drought persists, the watershed is continuing to deteriorate. Therefore, pressure from the government and plain lack of resources could spell disaster for some companies that haven't yet made the switch to cooling systems not reliant on water.
Importance of air cooling
When water isn't readily available for companies to use to cool their data center facilities, open air cooling or redirection methods are useful, efficient ways to ensure data room cooling. Hot air and cold air containment systems help server rooms evacuate warm air in order to prevent overheating and maintain the correct temperature.
For companies looking to protect their server rooms from overheating but are concerned about water conservation during these trying times for the western half of the U.S., a dynamic containment system like that provided by Geist might be the answer. Geist's system works within data centers of any environment by containing and redirecting hot air, thereby maximizing cooling efficiency and maintaining the ideal server room temperature. In this manner, Geist's solution can help companies reduce their reliance on water cooling systems while at the same time managing costs more effectively and implementing more sustainable practices.