Volkswagen uses Environet to monitor data centers 24/7
Volkswagen uses Environet to monitor data centers 24/7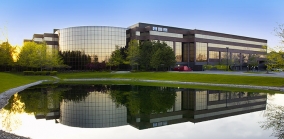 Volkswagen Group of America, Inc. is a wholly owned subsidiary of Volkswagen AG, one of the world's leading automobile manufacturers and the largest carmaker in Europe. With a worldwide family of distinguished brands including Audi, Bentley, Bugatti, Lamborghini and Volkswagen, the global company provides exciting automobile options to customers around the world.
The U.S. operations include a manufacturing plant in Chattanooga, Tennessee, and the management of North American Volkswagen business. Volkswagen Group of America, Inc. has two data centers in North America, along with 55 remote IT rooms.
Before Environet, Volkswagen didn't have a practical way to monitor and alert on critical assets in its data centers or remote sites. This is why Ed Dirnberger, IT Facilities Manager at Volkswagen Group of America, Inc., decided to research and install DCIM software. "There wasn't much in place to track or monitor assets in the data center or remote sites. We had limited network monitoring into our remote site environment." Ed explains.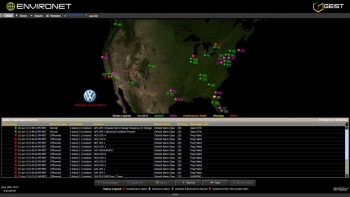 Ed's main criteria for selecting a DCIM system included a solution that is scalable and simple to use. Geist DCIM worked hand-in-hand with Volkswagen to produce a solution that met all of their data center needs.
Enterprise Visualization
Two Locations
---
Michigan
Ontario
Managed Sites
---
33 IT rooms monitored
With two data centers and numerous IT rooms across North America, it became difficult to monitor and manage all of the systems. Environet takes key information from each data center and IT room and consolidates it into one, easy-to-use interface. The system provides a variety of metrics and presents them in a powerful and useful manner.
Ed says "One of the most helpful features of Environet is the central dashboard that displays health checks of all North American Sites." This popular feature gives an at-a-glance view of how the data centers are running and shows devices that are in alert or alarm status. This is also useful for Volkswagen's IT rooms, since most are remotely monitored and could face serious problems if potential issues are not discovered and corrected.
Equipment Monitoring
When looking at DCIM solutions, Volkswagen needed a comprehensive monitoring system. With IT rooms in various locations, it was important for their team to be able monitor the rooms externally in a safe and reliable manner. Prior to installing DCIM, Volkswagen used a variety of management programs to monitor their equipment. A key benefit of Environet is the ability to bring disparate monitoring systems together. Consolidating the information into a single interface reduces both human error and response time.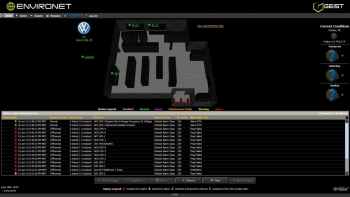 One critical monitoring point for Volkswagen is temperature. Environet provides thermographic views to show where the temperature changes occur. Along with the real-time visuals, the system will also alarm if a potential problem arises. Besides temperature readings, Volkswagen uses Environet to monitor UPS status, leak detection, and IP cameras.
Immediate Action
Volkswagen faced response-time concerns prior to implementing Environet. Without a reliable notification system, the possibility of problems going undiscovered when employees weren't present became apparent. One key reason Volkswagen decided to implement Environet was to add the ability to respond quicker to incidents and reduce the impact to business operations. Ed explains, "A remote site would go offline due to a power outage or water leak and IT wouldn't know about it until the user returned to the office. This caused several business interruptions."
Environet now provides 24/7 monitoring and alerting in the Volkswagen data centers and IT rooms. The system immediately notifies the data center team if there is a potential issue, ensuring that staff are up to date with data center alerts and alarms. Each monitoring point has six unique alarm levels, which allows for notifications to be sent to different individuals based on the alarm settings. Environet permits users to remotely access the system to acknowledge alarms, so the Volkswagen team doesn't always need to be in the office to manage the system. Ed says the notification system is especially helpful because Environet detects problems before other monitoring tools. Geist DCIM is committed to providing reliable, cost efficient DCIM solutions to customers around the world. It is important Volkswagen's customers are never negatively affected by a data center or IT room incident and implementing Environet has helped make this a reality. Ed says he plans to include Environet in all new IT room projects.