Geist Introduces Universal Power Distribution System Compliant with Microsoft's Project Olympus
Geist Introduces Universal Power Distribution System Compliant with Microsoft's Project Olympus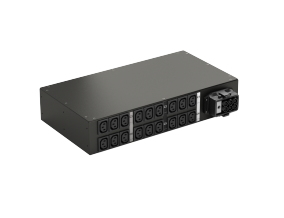 Lincoln, NE, Nov. 6, 2017 – Geist, provider of intelligent power and environmental management solutions, today announced a universal power distribution unit (UPDU) compliant with Microsoft's Project Olympus – Microsoft's next generation cloud hardware design and model for open source hardware development in collaboration with the Open Compute Project (OCP) community. Under the auspices of OCP and Microsoft's Project Olympus, Geist will continue to innovate power distribution product designs that are interoperable within a variety of rack formats, voltages, power requirements and geographies, and can be easily "hot-swapped" for rapid upgrade capability.
The Geist PDU features a universal input power connection that enables facilities to select a geographically-specific power cable (Facility Side Cable) versus requiring a country or geographically-specific PDU product. This universal PDU approach, in contrast to traditional PDU designs with specific hardwired connectors, enables a single PDU SKU to be quickly localized by adding a cable, or pre-configured in a rack and shipped to any location regardless of voltage and amperage, supporting greater flexibility in the supply chain.
The Geist UPDU features a 2U form factor with low profile circuit breakers and efficient outlet density. The highly modular PDU, with its wide variety of facility side cables, embodies the OCP ideals of flexibility allowing faster deployments, upgrades and expansions.
Geist began collaborating with Microsoft at the concept stage to develop a design that would simultaneously simplify and accelerate PDU deployments anywhere in the world through the use of a single SKU. The reliability, flexibility and scalability of the PDU were core requirements, along with customization capabilities that make the design continually adaptable to the changing requirements of global data centers.
"We look forward to continued collaboration with Microsoft on innovations aimed at reducing the expense and effort involved in data center expansions," said Brad Wilson, Geist president. "More broadly we recognize that every data center is different and that each has unique parameters for their ideal rack architecture. Our on-site manufacturing, testing facilities and deep product engineering experience enables quick turn customer-specific design solutions along with an ability to manufacture in varying quantities. We're able to serve entities ranging from hyperscale to start-ups to ensure that the benefits of the OCP community are available to more companies regardless of their size."
The Geist UPDU will be shown at the Data Center Dynamics Zettastructure conference, Nov 7-8, 2018 in London at the Geist booth (25) and Microsoft booth (46B).