What type of PDU is right for your data center?
What type of PDU is right for your data center?
July 26, 2018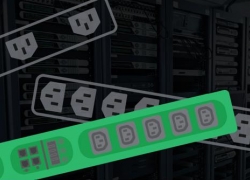 At first glance, your choice in power distribution unit might seem like it has little bearing on facility performance. But the enormity of this decision becomes apparent upon closer inspection. The specifications of your PDUs will have a direct influence on reliability, flexibility and scalability of your data center.
For starters, power-strip selection begins with a set of very basic questions:
Do you have single-phase or three-phase power?
Do you want a horizontal or vertical rack PDU mount?
What are your approximate amperage and voltage requirements?
What cord length and plug type are required, based on your region?
Once you answer these questions and have a strong understanding of your base-level requirements, you can move on to the next phase of PDU selection: selecting the best PDU for your facility.
Basic PDUs: Reliable but simple
A basic PDU is exactly what it sounds like: a power strip with a pre-selected number of power outlets. Most manufacturers will offer optional surge suppression to protect critical equipment in the event of an anomalous voltage spike. They'll also provide locking, color-coded receptacles to minimize the risk of accidentally unplugging equipment, and to improve cord organization, respectively. Some basic PDU manufacturers go one step further, offering "basic upgradeable" power strips, which are designed with the capacity to be upgraded as needed.
Generally speaking, though, there is no internet connectivity or graphical user interface on a basic PDU. This option is ideal for smaller server rooms that are in close proximity to your IT staff, though we wouldn't recommend it for larger, mission-critical server rooms or data centers, given their inability to be monitored or managed remotely.
Metered PDUs: A step above basic
The key difference between a metered PDU and a basic PDU is that the former tracks power consumption. It does this through a local GUI that displays key power utilization metrics (current, amperage, power factor, etc.).
Some metered PDUs also come with a visible light communication-enabled GUI. This allows authorized staff to scan a non-readable code on the power strip's digital display using a mobile device camera. Power consumption metrics are then optically transferred to the device, where they can be read in a human-readable format and exported as needed. This feature is helpful for capacity analysis and electrical load balancing.
Best-in-class metered PDUs are typically constructed with hot-swappable intelligence ports, which means that they can be upgraded without downtime to enable remote power monitoring if necessary. We recommend metered PDUs for use in highly secure data center environments that must keep power infrastructure air-gapped from the local network or for facilities that foresee an eventual need for remote monitoring.
Monitored PDUs: Intelligence that travels
Monitored PDUs are wired into a data center or server room's network. They remotely transmit real-time power consumption metrics – down to the outlet – to a secure web interface so facility staff can monitor critical power utilization metrics in real time, regardless of their location. This continuous flow of intelligence is useful in several key ways:
Automatic alerts are triggered the second a safe threshold is exceeded.
Power usage can be tracked with much greater precision, improving billing accuracy.
Load balancing is more precise, limiting the amount of stranded power without risking shorts.
Additional intelligence ports can be used for environmental monitoring.
High-quality monitored PDUs also have Ethernet ports that enable bi-directional daisy-chaining. This is possible thanks to rapid spanning tree protocol (RSTP), which eliminates the possibility of network loops, also known as broadcast storms, that would otherwise occur in a set of bi-directionally daisy-chained PDUs. Consequently, an entire series of PDUs can be connected to the network through a single switch port and still maintain fault tolerance.
Monitored PDUs are highly recommended for high-density data centers, especially large colocation facilities that aren't conducive to sneaker reports for billing purposes, and for cloud vendors that need to support fluctuating power loads without compromising energy efficiency or durability.
Switched PDUs: As intelligent as intelligent gets
Switched PDUs represent the modern zenith of data center power strips. They provide all of the same capabilities as monitored PDUs, with one key exception: They can be remotely controlled.
Authorized data center personnel can shut down individual power outlets from a web interface. They can use this functionality to power-cycle equipment for troubleshooting purposes or as a way to power down unutilized equipment during off-peak hours.
Switched PDUs are highly recommended for any large-scale, or geographically data remote data center. They're especially valuable for cloud providers that need a quick and easy way to activate and deactivate equipment in a large facility or, in some cases, an entire network of facilities.