Integration: The heart of a mature DCIM implementation
Integration: The heart of a mature DCIM implementation
August 1, 2018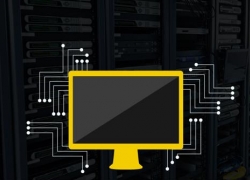 Data center infrastructure management (DCIM) is simple in theory. The idea is to consolidate many operational aspects of data center management into a central console. Power consumption, environmental conditions such as a temperature and humidity, security systems, and the operational status of mission-critical equipment can be overseen and managed on one screen.
So why, then, are there so many botched implementations, to the extent that some data center managers would go as far to say that DCIM has failed? Why is it that one-tenth of data center managers have decided to altogether "shun" the use of the DCIM?
The issue really boils down to one word: integration.
According to Rhonda Ascierto, VP of Research at the Uptime Institute, integration is the marker of a mature DCIM implementation. And again, the reasoning is fairly straightforward: DCIM's greatest value is its ability to continuously ingest operational data in the data center and then use that information to present real-time alerts and insights that improve facility performance, durability and efficiency.
In other words: no data integration, no DCIM.
RESTful API: The game changer
When looking for a DCIM solution that has the greatest capability to provide short- and long-term return on investment, the very first question should be whether or not the solution features a REST (Representational State Transfer) application programming interface (APIs).
"RESTful" APIs require fewer resources to bridge integration gaps with otherwise disparate IT systems and applications. They're flexible, which is crucial for a solution like DCIM that attempts to aggregate data from many different sources into one platform.
For context, just think about some of the different types of systems that need to be integrated into DCIM to get a true bird's-eye view of a facility:
Computer room air conditioning (CRAC) units
Chilled water systems
Utility power meters
Fuel systems
Uninterruptible power supplies (UPS)
Automatic transfer switches (ATS)
Power distribution units (PDUs)
Generators
Switchgear
Fire panels
Environmental monitors and sensors
And this only refers to hardware and systems that exist within the actual facility. Data centers are the backbone of so many enterprise workflows, and, as such, DCIM often requires multiple back-office integrations with enterprise resource planning applications and other third-party applications.
The more inclusive DCIM is in your organization as a whole, the more effective it will be in practice.
Operational synergy in action
A well-integrated DCIM solution opens the door to extraordinarily precise insights about current data center operations. These include but aren't limited to:
Environmental monitoring: With strategically placed sensors temperature, humidity and air-pressure sensors, staff can track and graphically visualize environmental patterns to determine how hotspots form in their facility. This creates opportunities to optimize airflow to keep temperature and humidity at ideal levels without increasing cooling capacity.
Power management: Power monitoring at the PDU level can feed real-time power consumption data to DCIM, enabling facility managers to know exactly how much energy each piece of equipment uses and where they can eliminate potential resource waste.
Asset management: Every asset in the data center (servers, switches, CRACs, racks, blanking panels, etc.) can be documented in DCIM; they can then be visualized through digital floor plans, highlighting the operational status of each piece of equipment and charting unoccupied space in the data center.
Capacity planning: Facility managers can understand the limitations of their facilities with an uncanny degree of precision, knowing where capacities lie for power, cooling and space. They can use this knowledge to scale their operations cost-effectively.
Again, none of this would be possible without a network of environmental sensors and smart data center infrastructure (e.g., intelligent PDUs). But most importantly, none of this would be possible without seamless integration between these many moving parts.