3 ways intelligent PDUs improve colocation data center management
3 ways intelligent PDUs improve colocation data center management
August 10, 2018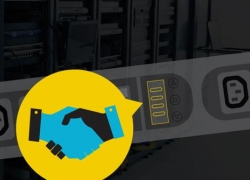 There used to be a clear line in the sand when it came to colocation data center management. The provider supplied and managed the physical space, cooling, bandwidth and power infrastructure, while the tenant supplied and managed the servers. There was little to no overlap between the two functions, and that was that.
Then, intelligent power came into the picture and changed everything.
Many colocation facility managers now use intelligent power distribution units (PDUs) to continuously monitor power consumption metrics that they can then share with tenants. The result is a mutual trust between the two stakeholders, along with some very tangible business benefits for both parties. These include, but aren't limited to, the following:
1. Utility-grade billing accuracy
Colocation managers who deploy intelligent PDUs with remote monitoring capabilities can continuously track power consumption rather than metering intermittently in order to create averages of the amount of electricity utilized by each tenant.
Consequently, they can bill tenants within a 1 percent margin or error. This reduces the chances that they undercharge clients, which would inevitably equate to a loss for that payment period. The inverse is also true, though: Tenants can be more confident that they aren't being overcharged as a result of imprecise power metering.
2. Cost-saving opportunities
In that same vein, remote power monitoring can be used to highlight power-saving opportunities for tenants. For example, running more servers than necessary during off-peak utilization times will needlessly boost their monthly bill.
Colocation facilities that use switched PDUs – which enable remote deactivation of individual power outlets – can market this function as a value-add resource for clients. They essentially present clients with an opportunity to remotely power down their IT equipment when it isn't in use, which can save hundreds, if not thousands, of dollars or more every year.
Best-in-class intelligent PDUs also save money for the provider through Ethernet-based daisy-chaining, which assigns a single IP address to multiple PDUs. More importantly, daisy-chained PDUs occupy a single switch port if they leverage rapid spanning tree protocol (RSTP). Each PDU normally needs two connections back to the switch to ensure fault tolerance.
RSTP circumvents this requirement by supporting bi-directional connectivity to the switch. The result: fault-tolerant power monitoring with fewer resources.
3. Complete visibility
Last, but not definitely not least, should a power failure such as an abnormal voltage spike or potential short threaten downtime, tenants should ideally know about it sooner than later – and preferably the moment it happens.
Intelligent PDUs can automatically alert colocation facility staff and tenants in the event that a specific rack-power or environmental threshold is exceeded. Colocation personnel can then respond to the issue in real time; meanwhile, the tenant isn't left in the dark wondering what happened.
In what would normally be a losing situation, everybody wins.