GT3HD
GT3HD
The GT3HD digital sensor collects and transmits real-time temperature, humidity and dew point data to protect critical data center equipment from heat and moisture.
The GT3HD model offers four RJ12 ports to connect two remote temperature (SRT) sensors, one uplink to connect to a host device and a supplementary input for daisy-chaining. The unit comes equipped with a 3' and 6' temperature sensor to monitor locations within the server rack.
The GT3HD requires a host device to transmit data. It counts as a single digital sensor while reporting multiple temperature readings. The unit may be daisy chained with other GT3HD or GTHD sensors to form a sophisticated climate monitoring network with real-time data logging and alarming. This is especially useful when achieving in-row temperature monitoring for top, middle, and bottom of each rack as per ASHRAE guidelines. (Figure 1) The plastic enclosure mounts easily anywhere in the data center with screws, magnets or adhesive.
Figure 1

Each GT3HD comes standard with a 10' uplink cord (50' cord is optional) and a 3' and 6' temp sensor.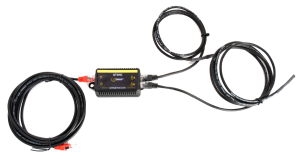 Sensor Details
Temperature Range
-4 °F to 176 °F (-20 °C to 80 °C) +/-0.5 °C
Humidity: 5% to 95%, +/-3%
Dew point: -58 °F to 185 °F (-50 °C to 85 °C)