Geist Develops Unique Solution to Target Network Switch Cooling
Geist Develops Unique Solution to Target Network Switch Cooling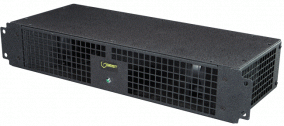 August 9, 2013 — Leading data center infrastructure provider Geist develops an innovative network switch cooling solution. The SwitchAir product line reduces heat by directing cool airflow to critical network switches within the rack.
Top of rack (TOR) network switches, load balancers and routers are typically mounted in the back of the cabinet where they are susceptible to heated air produced by servers. Geist's new comprehensive line of SwitchAir units is engineered to alleviate heat stress by delivering cool airflow to switches and other devices.
"The switch is quite possibly the most critical piece of equipment in the rack, and studies have shown elevated temperatures reduce the life of the switch by as much as 50%," said Brad Wilson, Executive Vice President of Geist. "Our SwitchAir product installs easily to eliminate intense heat and preserve the long-term functionality of the switch."
SwitchAir interfaces with rackmount network devices of any brand or configuration, from 1U to 9U in size. Products come in passive and fan assisted versions with front, side and rear airflow combinations.
# # #
About Geist
Geist designs and manufactures intelligent hardware and software for the four cornerstones of data center management: Power. Cool. Monitor. Manage. Independently, each Geist product line offers industry-leading capabilities and technology. Together, these products combine to create a comprehensive system for maintaining a secure and efficient data center. With a host of scalable systems for single cabinets, entire enterprises and everything in between, each customer benefits from data center infrastructure management (DCiM) solutions custom-fit for their specific needs. From its worldwide headquarters in Lincoln, Nebraska, Geist and its products have revolved around the customer since the company was founded in 1948. For more information, visit www.geistglobal.com.