Geist and RackSolutions Team Up for BloodCenter of Wisconsin
Geist and RackSolutions Team Up for BloodCenter of Wisconsin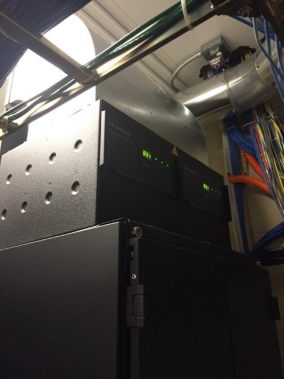 Challenge
To deploy two fully populated IBM H-Blade systems into a small IT room, provide adequate rack PDUs and manage the heat output in an IT closet where a conventional CRAC unit could not be deployed.
The solution
A combination of a RackSolutions 42U rack, a 60-amp Geist PDU's, Geist Cool ActiveAir™ system and some creative ducting.
The story
In the latter part of 2014, Thomas Schuld needed to upgrade his IT infrastructure to replace a number of existing blade center servers with fewer, more current, efficient and vastly improved IBM H-Blade systems.
Normally, in a contemporary data center, a conventional CRAC unit system would be installed. In this scenario, there simply was not enough physical space. Thomas already knew that he'd have to duct the hot air out of the room.
Faced with the challenge of available space, very high power requirements, and enough heat output to warm a large house in the dead of winter, Thomas had already planned to vent the air out of the room.
Upon contacting RackSolutions, a rack configuration was presented to Thomas that would enable him to completely isolate all of the heat being generated by the IBM H-Blades, put the heat into a duct, and make ensure that the hot air was being moved out. The sales rep advised a partnership with Geist to not only provide the 60-amp PDUs, but to also provide the Geist Cool active chimney.
The combination of all of these components into a unitary system achieved all goals, and overcame virtually every challenge that Thomas had.
The fine details
Each of these particular IBM H-Blade systems have four 2980 W AC power supplies. Fully redundant, and at full computational load, each blade system can draw 4,768 watts of power. This translates to approximately 16,269 BTU's of heat output for each blade chassis.
The Rack
RackSolutions Data Center Rack Enclosure 42-U x 42 inches deep x 24 inches wide, Geist Cool Specific Top Panel with Pass-through brushes, Solid Bottom Panel, 2x Rear Cable/PDU Bars, Caster/Leveling Kit, Full Perforated (Standard Key Lock) Door, Split Non-perforated (Standard Key Lock) Door and 2x End Row Panels (1 Per Side)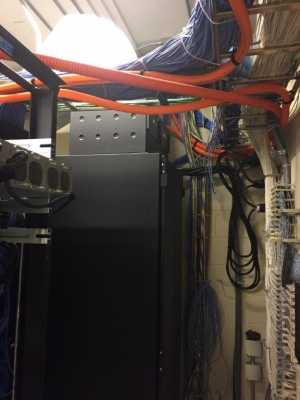 Geist PDUs
Current Monitoring, Unit Level, 60A, 208V DELTA, 3 Phase,
Vertical, (6) NEMA L6-30R, breakered, 10 ft power cord with
3P+E, Current Local/Remote Digital RMS Scrolling Current
Meter & Ethernet Connection for Remote
Monitoring/Alarms/SNMP v1 Traps +/- 3.5% Accuracy with
Full Scale 60Hz sine wave input, Breaker Level Monitoring
The Geist Containment Cooling System
EC1001T Chassis, 120-208V Host Controller with Pressure Sensor and (2) Fan Cartridges